This vegan apple ginger bread recipe was born of abundance and its inevitable decay. It's the hazard of using a produce subscription service: in the lean months of winter, the offerings become both repetitive and less diverse. That is how, in January, I found myself with a large quantity of apples, even though I was sick to death of them.
There they were, sitting in a pretty bowl in the kitchen, turning wrinklier and mealier by the day. I could not think of a thing to do with them, but I knew that I could neither throw them away nor let them rot on my countertop.
And then it came to me: I would make a quick bread.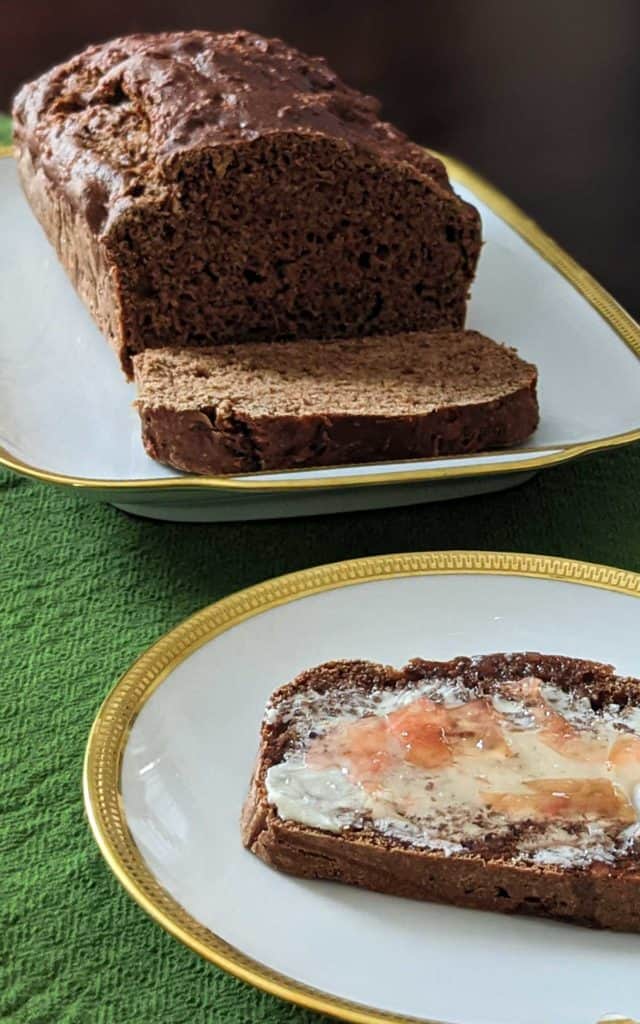 Jump to:
🥗 About this recipe
The quick bread is where expiring produce goes to be reborn.
Too many zucchinis? Make a zucchini bread.
Too many carrots? Carrot bread.
Bananas turning to mush? Well, you know where I'm going with this.
The apples were going to meet their fate. And they were going to take a big hunk of ginger root with them.
As I was developing this recipe, I was thinking of the German lebkuchenherzen. These gingerbread cookies are made in the shape of a heart, and are often filled with preserves of fruit such as apricot or plum.
The combination of all-purpose flour with the heartier whole wheat gives this bread a light but sturdy texture. This, along with the ginger, cinnamon, nutmeg, and allspice, call back to the lebkuchen flavor profile without going full cookie on your breakfast or afternoon snack.
✔️ Ingredients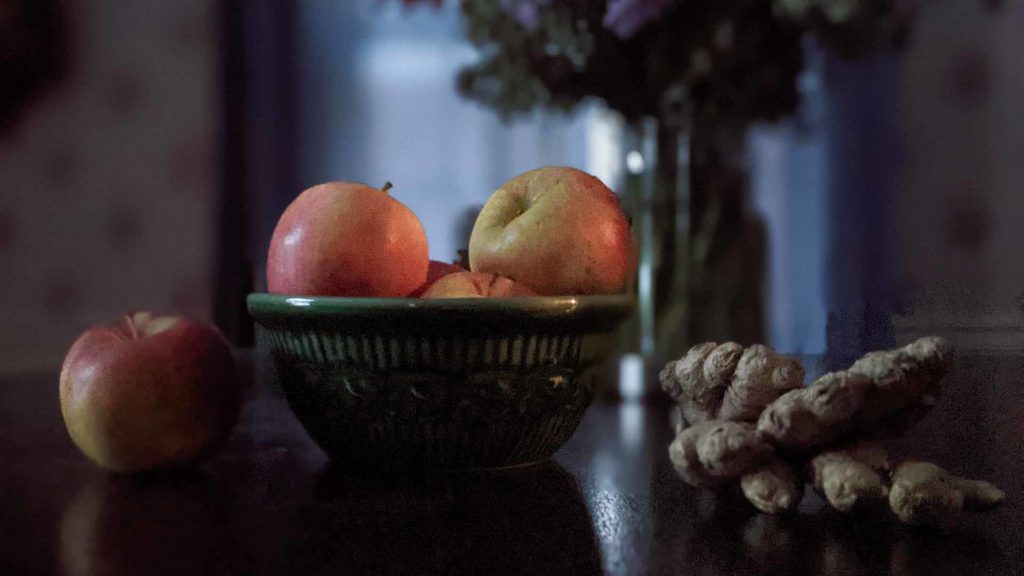 Apples and ginger
First, I must be honest about one thing. The apples play only a supporting role in the finished product. In fact, you might not be able to identify them in the final bread at all. Because they are grated, they disappear into the crumb of the bread. What you will notice, though, is the light sweetness and tenderness they add.
The fresh ginger and spices are the real stars of the show.
The finished product is a lightly sweet, moist bread that is packed with warming spices. It's wonderful when sliced and toasted, and a bit of apricot or plum jam would not go amiss. Lately, I've been enjoying it with a schmear of vegan butter and a light glaze of rose petal jam.
Vegan buttermilk
In traditional quick breads, buttermilk has two functions. First, it adds richness and a bit of tangy flavor. Second, the acidity reacts with baking soda to help the bread rise.
A combination of plant-based milk and vinegar or lemon fulfills the same functions here while keeping it vegan.
Flax egg
Flax seeds, when soaked in water, form a gel that acts as a binding agent in baked goods.
I like to use ground flax seeds in breads (for example, Hearty Brown Bread with Rye and Teff), because they have all of the binding and nutritional benefits of whole flax seeds, while better blending in with the texture of the bread.
You can certainly use whole flax seeds instead. The flax egg instructions will still work, and you can either strain the seeds from the liquid after the gel forms, or leave them in the bread for a seeded texture.
Whole wheat and all purpose flour
This blend of whole grain and white flour produces a bread that is light and tender. But the whole wheat flour contributes flavor and fiber.
The result is sturdy enough for the grated apples and ginger, and flavorful enough to support a substantial dose of spices.
Brown sugar and molasses
When I was working on this recipe, I liked the idea of a spiced apple breakfast bread. But I usually don't like the way I feel when I eat sugary pastries in the morning, and my partner isn't a fan of sweets.
For these reasons, I kept the added sugar minimal, only using small amounts of brown sugar and blackstrap molasses. I'm delighted with the light, balanced sweetness of the final product. I find that it satisfies my occasional sweet tooth without resulting in a sugar crash.
Spices
Thanks to the cinnamon, allspice, and nutmeg, this bread is intensely aromatic while it's baking. Don't be surprised if your kitchen ends up smelling like the witch's gingerbread house in Hansel and Gretel.
Feel free to substitute other spices or to add a pinch or two in addition to those listed here. Ground cardamom or cloves, and even a pinch of white and/or black pepper would be good additions.
Other ingredients
Baking soda and a smidge of salt round out the list of ingredients.
There is no oil, shortening, or butter in this recipe, so the fat content is pretty minimal, and the whole wheat flour and apple both contribute fiber.
In fact, after I calculated the nutritional values, I was pleased to find that a two-slice serving of apple ginger bread compares favorably to some of my favorite breakfast cereals.
✏️ Instructions
Preheat oven to 350° F and prepare a standard loaf pan. You can use oil or vegan butter to keep the bread from sticking, but I like to line the pan with parchment paper instead.
In a small bowl or measuring cup, make the vegan butter milk by adding the vinegar to the plant milk. Set aside while you prepare the other ingredients. The plant milk may curdle slightly; this is totally normal.
Meanwhile, make a flax egg by combining the flax meal with the water. Set that aside, too, until it forms a loose gel.
Next, strain excess moisture from the grated apple by pressing in a colander or squeezing in a cheesecloth. This step is important to make the finished vegan apple ginger bread moist but not soggy.
In a large bowl, combine all purpose flour, whole wheat flour, baking soda, cinnamon, allspice, nutmeg, and salt.
In another bowl, whisk together the curdled plant milk, flax mixture, brown sugar, and molasses.
Add the wet ingredients to the dry ingredients and stir until combined. Then fold in the grated apple and ginger.
Pour the batter into the pan and bake at 350° F for one hour, or until a toothpick inserted in the center of the loaf comes out clean.
Let cool completely before slicing.
Serve this vegan apple ginger bread with vegan butter, cream cheese, or jam. It is also delicious toasted!
---
🧰 What you'll need
Note: This section contains affiliate links. I may earn a small commission if you follow the links and make a purchase. This doesn't cost you anything, and it helps me continue running Bittertreats.
---