Hearty, savory, and delicious, these easy vegan cornbread muffins are the perfect addition to your meal-prep menu rotation. They keep well and freeze beautifully, so you can make a big batch and enjoy them at your own pace.
And if you've never made cornbread from scratch before, you might be surprised at how simple it is: just measure, stir, and bake.
Serve them for an easy dinner with chili or black bean soup, and as a snack with just a pat of your favorite plant-based butter. Or include them in a packed lunch for a complete and satisfying meal.
Jump to:
🥗 About this recipe
Cornbread is a staple in several north American cuisines, and people can be fiercely protective of their regional styles.
On one end of the spectrum, you'll find savory, crumbly southern cornbread, crisped in a cast-iron skillet. On the other end is the sweet northern cornbread, with its more delicate and cake-like texture.
I grew up in southwestern Missouri with roots in Iowa and Minnesota, and my family made cornbread muffins from the Jiffy boxes on our local supermarket's shelves. They were affordable and easy to use, which is why they were one of the first things I learned to cook.
My sensory memory of the effervescent sweetness of the cornbread batter is both indelible and intense. But even as a kid I couldn't resist the temptation to tinker with the recipe on the box.
(My younger brothers still shudder at the memory of my nutmeg-infused cornbread experiments.)
With this recipe, though, my tinkering days may finally be at an end. It incorporates elements of the different cornbread styles that I enjoy: savory and rich, with a hearty texture and the tiniest hint of sweetness. It's a balanced blend of midwestern and southern styles.
These muffins are the perfect accompaniment to any soup or stew. Or just serve them warm from the oven, with plenty of vegan butter.
✔️ Ingredients and substitutions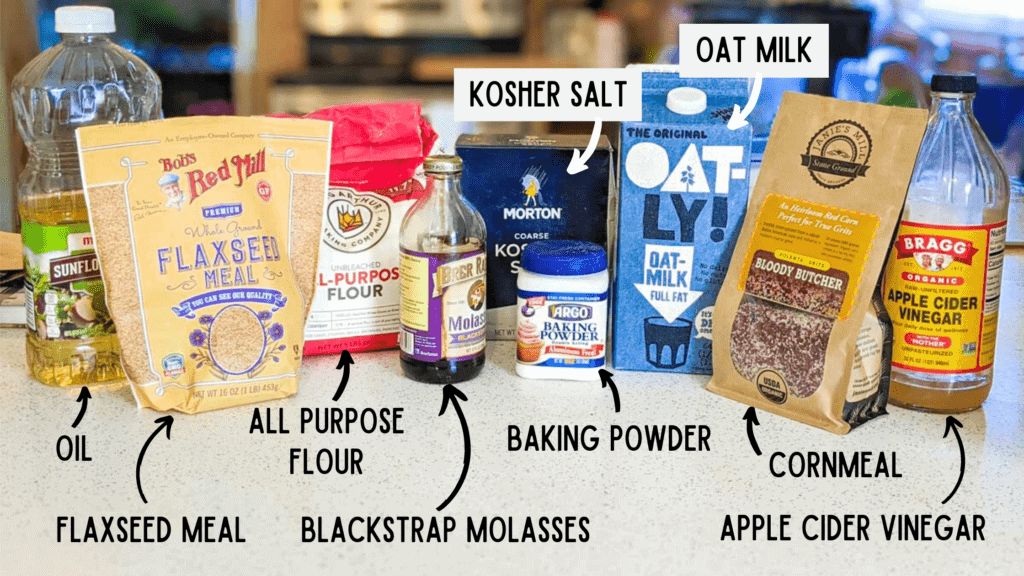 Note: This section contains affiliate links. I may earn a small commission if you follow the links and make a purchase. This doesn't cost you anything, and it helps me continue running Bittertreats.
Medium-coarse cornmeal
This chunkier variety of cornmeal gives these muffins their pleasingly homey texture.
In the batch featured the photos in this article, I used Bloody Butcher Polenta/Grits from Janie's Mill, a family farm and mill in eastern Illinois.
This cornmeal is made from an heirloom corn variety that has a burgundy-colored outer coating. This gives the muffins their rich color.
But you don't have to use the same cornmeal that I used. Any medium-course variety will do.
All-purpose flour
I used equal parts of all-purpose wheat flour and cornmeal in order to create a sturdy structure for these muffins.
Cornbread styles that use all cornmeal, or a greater proportion of cornmeal, tend to be crumblier than these muffins.
Now, you can certainly crumble the muffins if you want to (I like to crumble them into black bean soup), but they aren't going to fall apart without a little bit of encouragement.
If you need a gluten-free version of these muffins, just substitute a gluten-free flour blend that is made for baking, like Bob's Red Mill Gluten Free 1-to-1 Baking Flour.
Blackstrap molasses
This recipe does not contain any refined sugar. These muffins get a hint of sweetness from the addition of blackstrap molasses.
Blackstrap molasses is actually a byproduct of refined sugar, and it's a rich source of iron and other minerals. Essentially, it's where the natural nutrients in sugarcane end up when they are stripped out to make white sugar.
Oat milk, apple cider vinegar, baking powder, and ground flax seed
These are the vegan secret ingredients that replace the eggs and buttermilk found in many traditional recipes.
Oat milk and apple cider vinegar stand in for buttermilk. The acidity of the apple cider vinegar interacts with the baking powder and helps the cornbread muffins to rise.
Ground flaxseed meal, meanwhile, acts as a binding agent in place of eggs. I use Bob's Red Mill Flaxseed Meal. If you are using yellow cornmeal for your muffins and want a more uniform yellow color, you could use golden flaxseed meal instead.
Refined sunflower seed oil
Refined sunflower seed oil is neutral in flavor. It's my preferred oil in this recipe because I feel that its balance of richness and lightness strikes the right balance for these muffins.
If sunflower seed oil is not available, canola oil, vegetable oil, or refined coconut oil would all be good substitutes.
You could also use the vegan butter of your choice. In my testing, I found that even a small amount of butter made the muffins heavier than I wanted, but that's just a matter of preference.
If you use a variety of vegan butter that contains salt, be sure to omit the amount listed in the recipe (or, at least, taste the batter before you add it).
Coarse Kosher salt
A small amount of Kosher salt brings out the savory potential of the cornmeal in these muffins.
Because I tend to serve them with intensely flavorful foods, I keep the salt pretty minimal. But salt preferences can vary a lot, so feel free to adjust to taste.
To reduce the recipe's sodium content, you may omit the salt altogether. Or, to make the muffins even more savory, you may increase add a bit more. I would suggest making the recipe as written once before making adjustments, though.
✏️ Instructions
Combine the flax meal and oat milk in a small bowl, and set aside.
Preheat oven to 400° F and grease or line the muffin tin(s).
In a large bowl, whisk together the rest of the dry ingredients: cornmeal, all-purpose flour, baking powder, and salt. Break up any lumps of baking soda or flour.
Then, combine the wet ingredients by adding the sunflower seed oil, molasses, and apple cider vinegar to the oat milk mixture.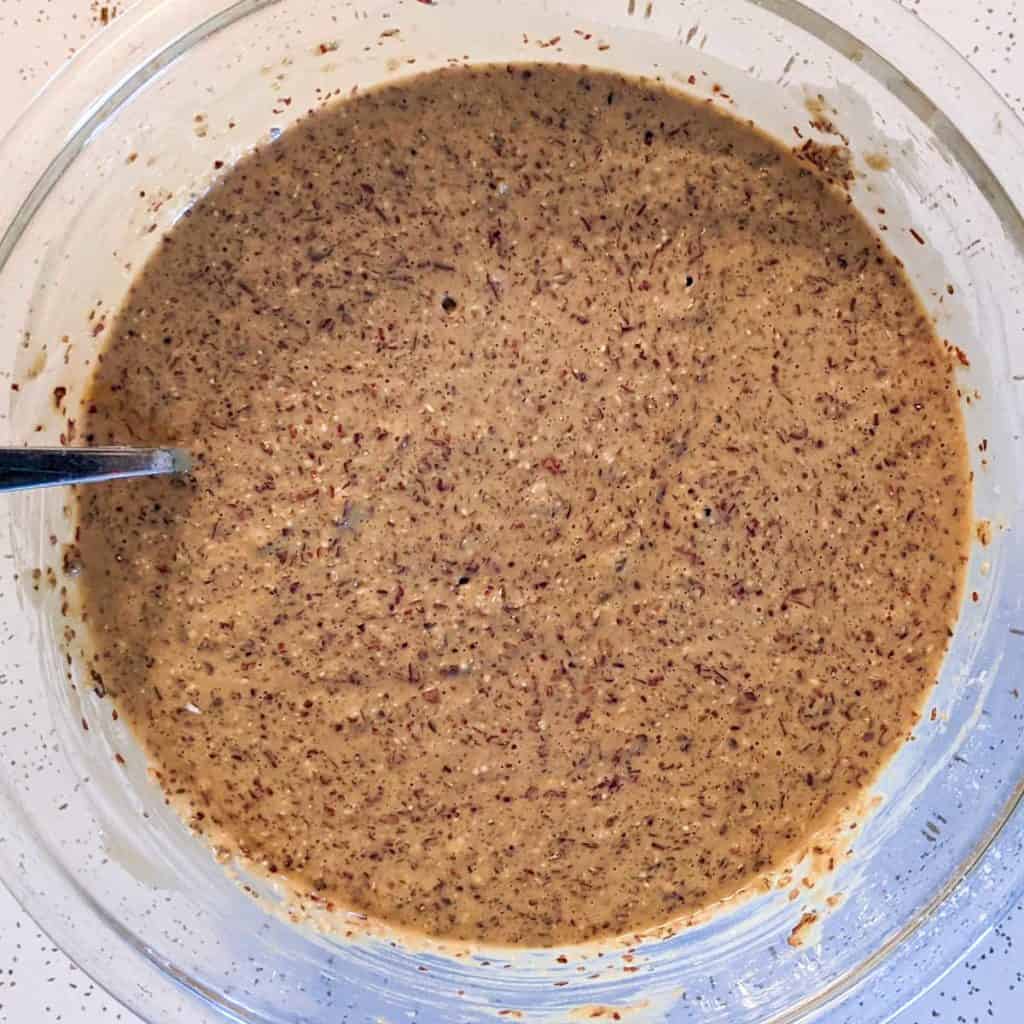 Finally, add the wet ingredient mixture to the dry ingredients. Stir until combined; it's okay if the batter appears a bit lumpy.
Distribute the batter equally in the muffin tin(s), then bake for about 20 minutes, or until a toothpick inserted into a muffin comes out clean.
---
🧰 What you'll need
Note: This section contains affiliate links. I may earn a small commission if you follow the links and make a purchase. This doesn't cost you anything, and it helps me continue running Bittertreats.
---