Let me tell you about a perfect meal. It starts with a crisp, fresh salad dressed with a drizzle of herbed vinaigrette. That's followed by a generous bowl of bright, flavorful Tuscan bean soup, served with a chunk of crusty garlic bread. On the side is a glass of chianti or pinot grigio, or sparkling water with a twist of lemon.
You just find yourself a sunny terrace with potted herbs and a view of the rolling, hilly countryside. I've got the soup recipe covered.
Jump to:
🥗 About this recipe
For big family gatherings, my mother makes a dish she calls "Tuscan Stew." I'm not sure where the recipe originally came from, but it's become a classic in her repertoire. This Tuscan-inspired recipe is my riff on that family favorite.
This soup bears a superficial resemblance to my Butter Beans with Tomatoes and Mustard Greens, but the two dishes actually taste very different. The butter beans get a much funkier character from the mustard greens, while this soup is more delicately balanced.
When you make this recipe, you'll get a nutritionally dense meal that will keep you feeling full for hours.
That's because each serving of this soup offers about 9 grams of protein and 11 grams of fiber, thanks to the kale, fennel, and cannellini beans. These two macronutrients help with feelings of satiation, allowing this soup to stand alone as a full meal.
It contains no added sugar and only a moderate amount of healthy fat from the olive oil. It's also a good source of calcium, iron, and potassium.
✔️ Ingredients and substitutions
Onion, fennel, and garlic
This trio of aromatics contribute flavor and texture to the soup.
Delicate fennel adds a subtle sweetness. While the raw vegetable has a distinctive licorice note, cooked fennel is mellow and addictively tasty.
Meanwhile, onion and garlic balance the sweetness of the fennel with their savory richness.
Tomato paste and miso paste
Tomato and miso pastes provide a solidly savory foundation in this recipe. Tomato paste, browned along with the aromatics, becomes rich and flavorsome.
Miso is the game-changer ingredient, though. In these proportions, it's not recognizable in the final soup, but it definitely adds the depth that parmesan cheese often provides in a non-plant-based recipe. If you aren't using miso, you may substitute a few tablespoons of nutritional yeast.
Caution To make this recipe gluten-free, be sure to use a gluten-free variety of miso.
Miso can be made with a variety of grains, some of which contain gluten. Many brands specify on the label that they are gluten-free, so be sure to check the label.
If you are watching your sodium intake, you may need to pay special attention to the ingredients that you use in this recipe. You can reduce the sodium in the recipe by skipping or cutting back on the miso, as well as by using low-sodium beans and broth.
Cannellini beans
Tender cannellini beans offer a comforting combination of texture and flavors. These white beans, also known as white kidney beans, absorb the flavors of the other ingredients while retaining their shape and structure.
If you don't have cannellini beans, you can use navy beans, great northern beans, or even baby lima beans. These varieties will be slightly softer, but will be similarly mild in flavor.
Canned whole San Marzano tomatoes
Thanks to the magic of canning, this Tuscan bean soup offers bright, summery tomato magic all year round.
For best results, I prefer to use whole, canned San Marzano tomatoes. They taste better to me than the diced varieties, and I like the irregular chunks created from smashing them with a wooden spoon.
Curly kale
Sweet, mild kale adds flavor and nutrition to this soup.
The curly green variety of kale is my favorite type to use here. It has a sturdy texture that stands up well to simmering. Curly kale keeps its integrity even after freezing and reheating, making this a great soup to prepare in large batches. I like to freeze several portions to keep for those busy weeks when cooking a nutritious meal feels impossible.
Alternatives to curly kale include lacinato kale or fresh spinach. These are both more delicate, and are more suitable to use if you are not planning on saving leftovers.
Vegetable broth, dry white wine, and olive oil
Sautéing the fennel, onion, and garlic in olive oil infuses it with these flavors. You can omit the oil and use a bit of broth, instead, but the final result will be much tastier if you don't skimp on the olive oil.
Similarly, the white wine adds great flavor, but isn't strictly necessary. If you don't have wine on hand, you can substitute a squeeze of fresh lemon for a bit of fruity acidity.
Finally, if you don't have vegetable broth on hand, you may also use water with a vegetarian bouillon cube or two.
Thyme, white pepper, red pepper flakes
Thyme's fragrant herbaceousness brings an essential element to this recipe. Thyme has a spicy quality that is similar to oregano, but without the distinctive pizza association.
White pepper is subtle and smoky, and it brings out the savory elements of the soup.
Optional red pepper flakes add a spicy kick. Skip the red pepper if you want to avoid the heat.
✏️ Instructions
Warm the olive oil in a large pot over medium-high heat.
Add the onion and fennel, stirring occasionally until the onion begins to turn translucent. Then, stir in the garlic.
When the garlic becomes fragrant, add in the tomato paste and miso paste. Stir occasionally until the tomato paste darkens slightly.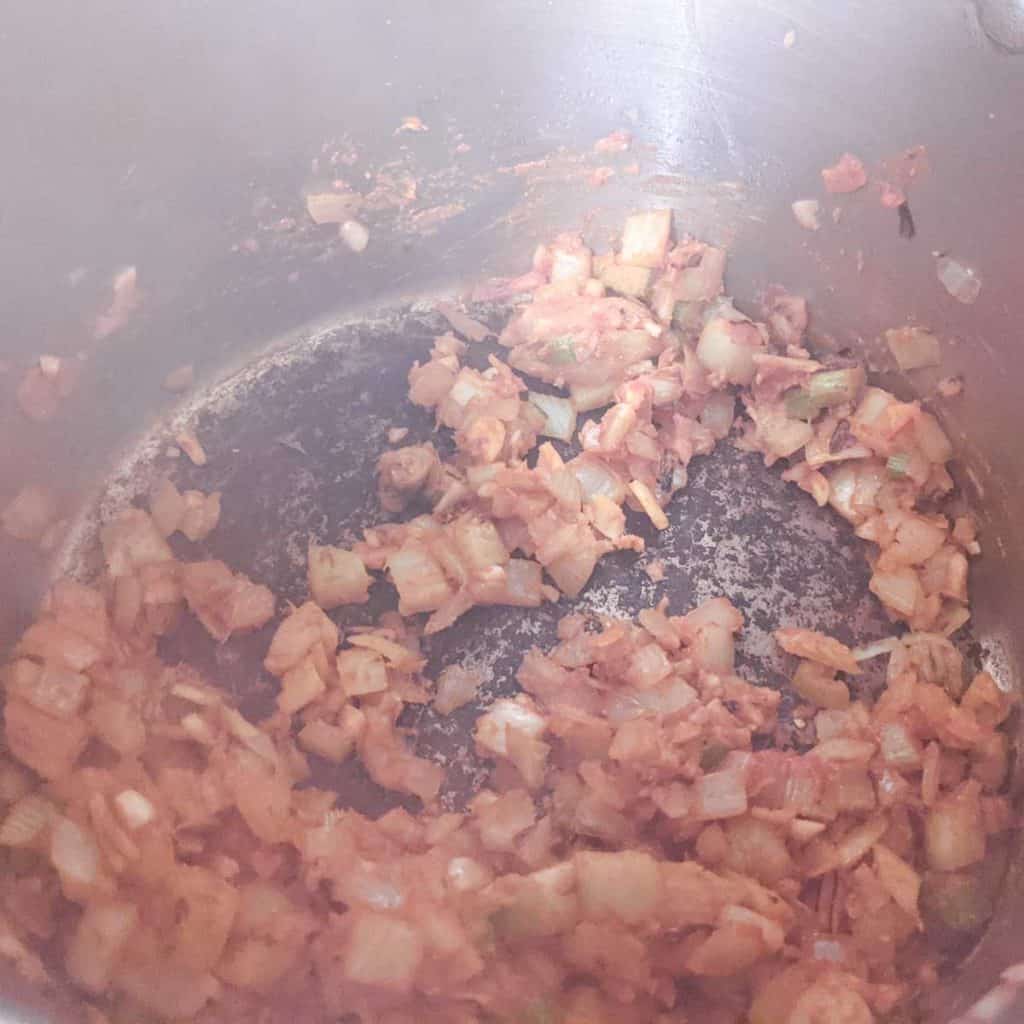 Add the cannellini beans, vegetable broth, tomatoes, thyme, white pepper, and red pepper flakes.
Use a wooden spoon to gently smash the tomatoes into smaller, irregular pieces. (Alternatively, strain and reserve the liquid from the can. Chop the tomatoes, then add them to the soup along with the liquid.)
Bring to a simmer, then stir in the kale and the white wine.
Continue simmering over low-medium heat until the kale is soft and the flavors are well-combined.
Taste, and adjust seasoning with salt and pepper if needed. Drizzle with a small amount of olive oil to serve.
---
What you'll need to make this tuscan soup recipe
It could hardly be easier to gather the items you'll need to get started:
A colander isn't strictly necessary, but it will make it easier to rinse and drain the kale and the beans.
---