Behold the tomatillo, the best-dressed plant in the produce section. It is vibrant, tangy, and so stylish in its little sheer jacket. My favorite thing about the tomatillo, though, is the mellow, zesty oomph it contributes to this vegan chile verde.
In this recipe, soy curls stand in for the more traditional pork. You probably won't find them at your local mainstream supermarket, but you may have more luck with natural foods stores. Otherwise, you can order online from a variety of sources, including directly from the manufacturer, Butler Foods.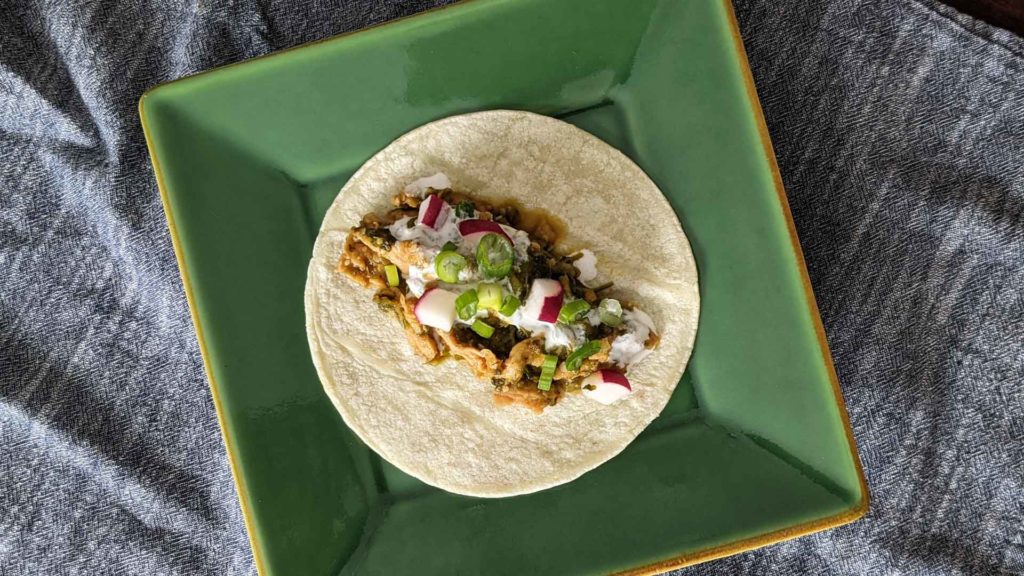 If soy curls are completely unavailable, or if you would prefer not to use soy, there are plenty of other options.
Pinto, kidney, or black beans would work well, and I'm sure that seitan or jackfruit would also taste terrific. Or you could forgo beans or meat stand-ins altogether and simply add a variety of vegetables to make a colorful stew. Bell peppers, zucchini, and corn are all good additions, and can be roasted along with the peppers, onions and tomatillos if you want to crank up the smokey flavor.
I have added zucchini or summer squash and blended it along with the peppers with good results. This will cut the heat of the peppers a bit, but it's a great way to use up extra veggies. For colorful bell peppers or corn, though, I'd keep those out of the food processor or blender. Just add them to the sauce when it's simmering on the stove.
Customize your spice level
I'm a big fan of spicy food, but I'm not the most hardcore pepper enthusiast you'll ever meet. That's why I like to use just about a handful of hot peppers to add some heat to the chile verde. Because peppers are plants, there is natural variation in their level of spiciness, so it can be tricky to predict exactly how hot the chile will be. I like to err on the side of caution — just barely — and then, at the table, add hot sauce to taste.
If you prefer milder flavors, you can definitely modify the recipe to suit your taste. To make it very mild, replace the hot peppers with one of the following:
One poblano pepper
Another mild pepper, like a cubanelle or bell pepper
Peppers with less heat, like anaheim or shishitos
If a face-melting heat level is what you're going for, you probably don't need me to tell you how to make that happen. But just to get you started, I would recommend adding a habanero or two in addition to the peppers listed in the recipe.
What you'll need to make vegan chile verde
Note: This section contains affiliate links. I may earn a small commission if you follow the links and make a purchase. This doesn't cost you anything, and it helps me continue running Bittertreats.
A sheet pan
A large, heat-safe bowl
A large saucepan