This sausage, white bean, and radicchio pasta is a perfect option when you want a meal with a little bit of razzle-dazzle, but you don't want to spend hours in the kitchen or practice fussy techniques.
It's an easy vegan meal that feels fancy, looks fabulous, and tastes amazing — and it's super easy to make.
Serve it with a crisp salad, fluffy bread, and a glass of your favorite wine. Close your eyes, take a deep breath, and pretend you are dining on a terrace in Italy.
Jump to:
🥗 About this recipe
This pasta came about because I really like radicchio, and I'm always looking for new ways to use it.
That can be tricky, though, because it has a pronounced bitter taste in its raw form.
You may be thinking, "Meg, the website is called BITTERTREATS, of course you will feature bitter foods!" And you are, of course, correct. In fact, I was thinking of radicchio when I came up with the name.
But radicchio packs such a punch that it can be really overwhelming if not handled with intention.
It's not that there's anything wrong with being bitter. It's just that it's good to have control over the level of bitterness. So, scroll down to the "instructions" section to learn an easy trick for taming radicchio's bite.
And if you're interested in more easy recipes that incorporate interesting leafy produce, be sure to check out my Easy Fettuccine with Radish Greens Pesto and my Butter Beans with Tomatoes and Mustard Greens.
✔️ Ingredients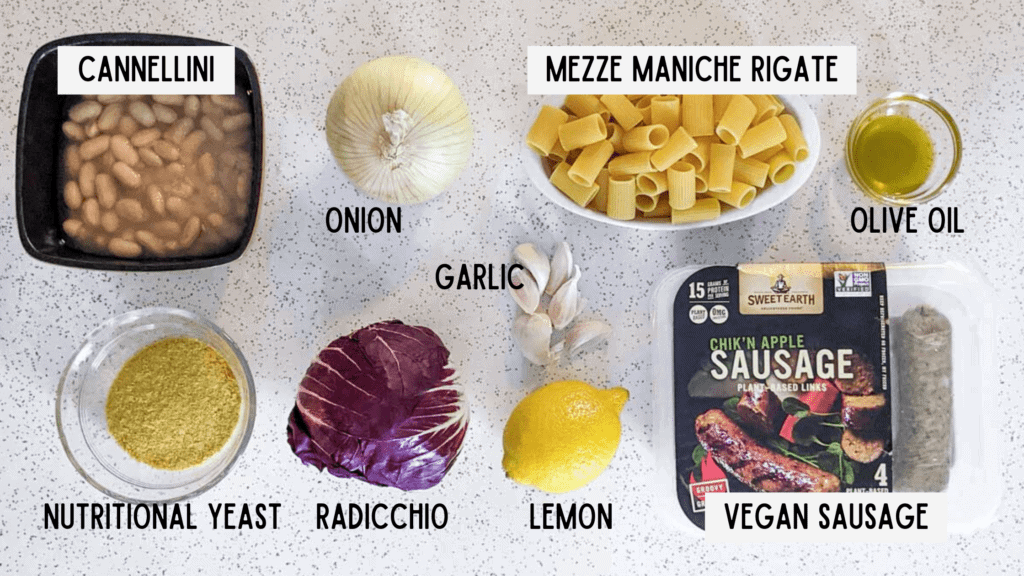 This recipe contains only nine ingredients that combine for a bold and balanced dish.
Radicchio
Mezze maniche rigate pasta
Vegan sausage
Onion
Garlic
Nutritional yeast
Olive oil

Lemon
While a high-quality pasta will go a long way here, the stars of the show are the radicchio and the vegan sausage.
Radicchio
Radicchio has a glossy, deep purple color, a crisp and refreshing texture, and a naturally bittersweet flavor. Heat mellows out the bitterness over time (as in Bittersweet Grilled Radicchio), but that method of reducing bitterness can result in a brownish, mushy final product.
But fear not! I recently learned from an article in Cook's Illustrated that the compounds that make radicchio bitter are water soluble. After a 30-minute bath in cold water, that raw harshness is greatly reduced.
For that reason, this recipe will instruct you to soak the radicchio before cooking it. That means that it won't need as much time in the pan; you'll just heat it long enough to bring it up to the proper temperature and soften it a little bit. This will allow the radicchio to retain more of its purple color and sturdy texture.
Vegan Sausage
My local supermarket has offered an increasing variety of vegan sausages in the last few years, and I've noticed the same trend in most places where I've traveled.
The sausage in this recipe contributes a savory depth that balances the radicchio. That said, I've had success using a variety of different vegan sausages in this dish, so you can pretty much just choose whichever one you like. If you make your own vegan links, you could even use those!
For this article, I used Sweet Earth's "Chick'n and Apple" plant-based links, which have a sweetness from the apple that contrasts nicely with the savory sausage.
I've also enjoyed Beyond Meat's "Hot Italian" sausage in this. It has a slightly spicy, fennel-infused flavor that goes nicely with the other notes in the recipe.
✏️ Instructions
This recipe contains just a few ingredients, and while some of them require specific care (*cough* radicchio *cough*), the techniques involved are very simple. First, you'll chop and mince the produce. Then, you'll soak the radicchio and prepare the pasta. Then, you'll brown the sausage and begin putting it all together.
Read on for the detailed instructions.
Prep the ingredients
To cut the bitterness of the radicchio, you're going to soak it for about 30 minutes. So, you'll need to get that process started early. But first, start heating the pasta water to allow it to reach a boil while you're working on the other ingredients.
While the water is heating, cut the stem off of the end of the head of radicchio and discard it. Then, cut the head into quarters, and slice each one into strips of about ½ inch in width.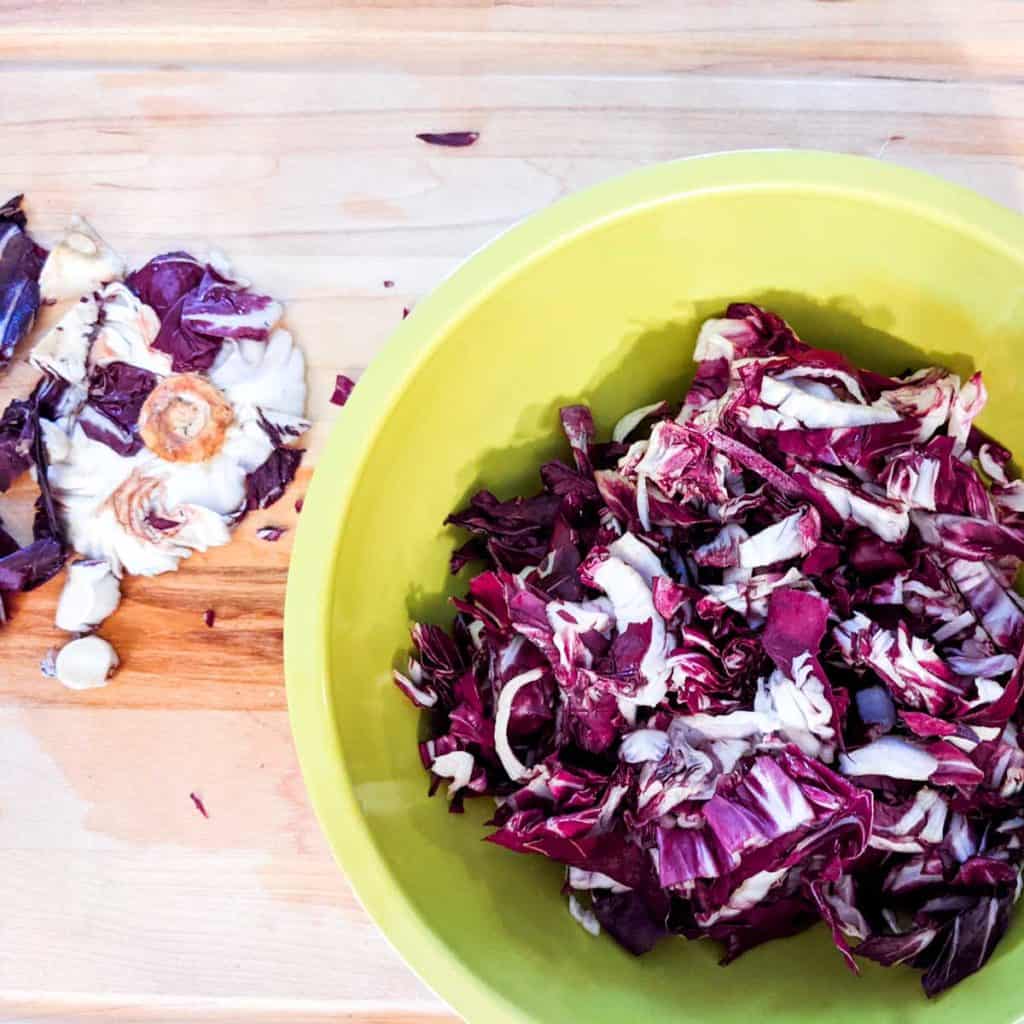 Place the radicchio in a large bowl, and pour cold water over it to cover. It's okay if the shreds float, you just want all of the radicchio to be in contact with the water.
Set the bowl aside to soak while preparing and cooking the other ingredients. It will take about 30 minutes to fully reduce the radicchio's bitterness. But since it's the last thing you'll be adding to the dish, the timing should be just about right.
Next, chop your onions, garlic, and sausage. For the garlic, you're just looking for a fine mince — nothing complicated.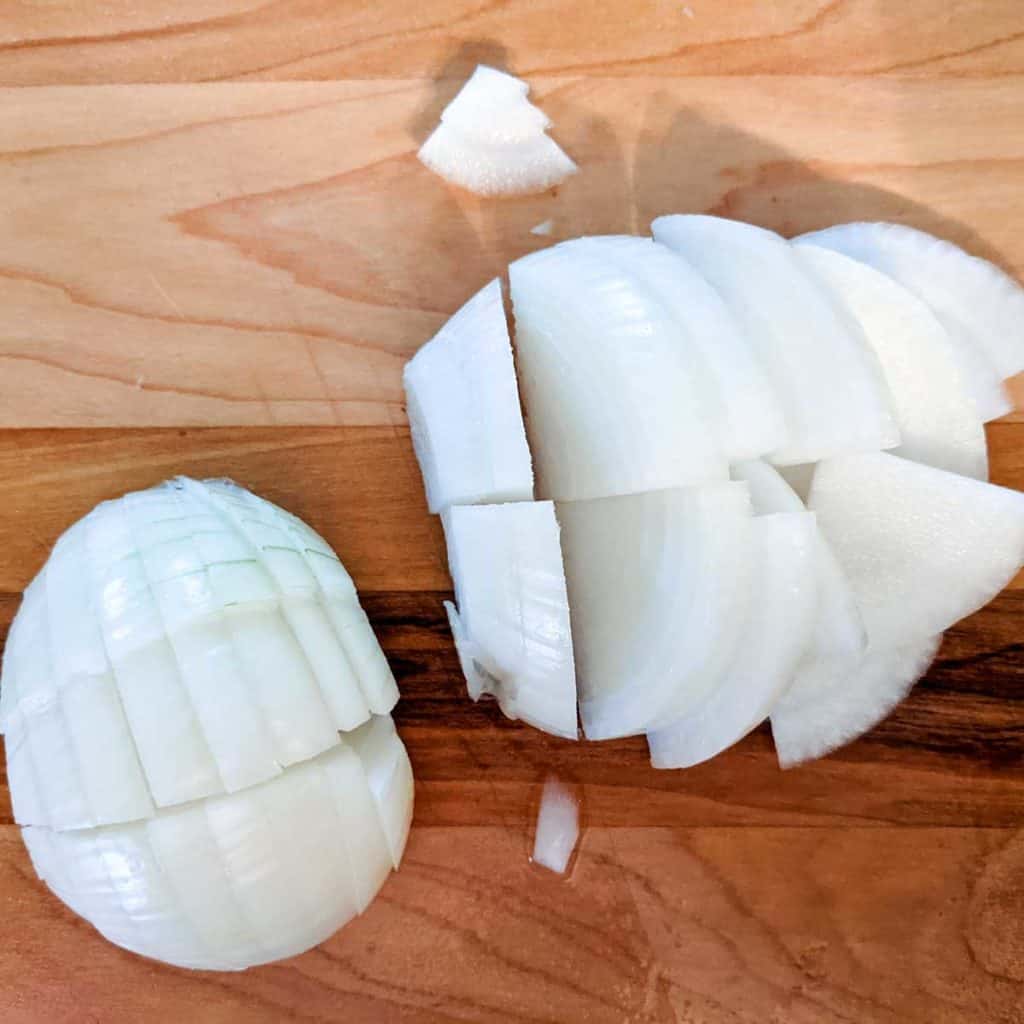 Next, I like to cut the onion in half, and chop each half into three wedges. Then, I slice each half across those three cuts to make short strips.
Finally, chop the sausages into round pieces of about ½ inch thick. Of course, if you will be using a crumbly variety of sausage, you can skip the chopping step.
Make the pasta
Refer to the instructions on the package for your pasta. Cooking times can vary substantially between different pasta brands, so the information that the manufacturer provides should be your starting point.
That said, you won't be following the instructions to the letter. Instead, look at the recommended cooking time, and subtract two minutes from the total. Follow the instructions otherwise, though.
When you've reached the recommended cooking time, less two minutes, strain the pasta. Rinse it with cool water and set it aside.
Put it all together
Heat the oil, if you are using it, in a large pot or high-walled pan over medium heat. (Whether or not you use oil will depend on the type of sausage you've chosen — see the sausage substitution notes below for more information).
When the oil is hot but not smoking, add the vegan sausage. Stir occasionally to brown the sausage on both sides. Then, add the onions to the sausage, and cook until they are translucent.
Then, add the garlic and stir for a few moments until it becomes aromatic.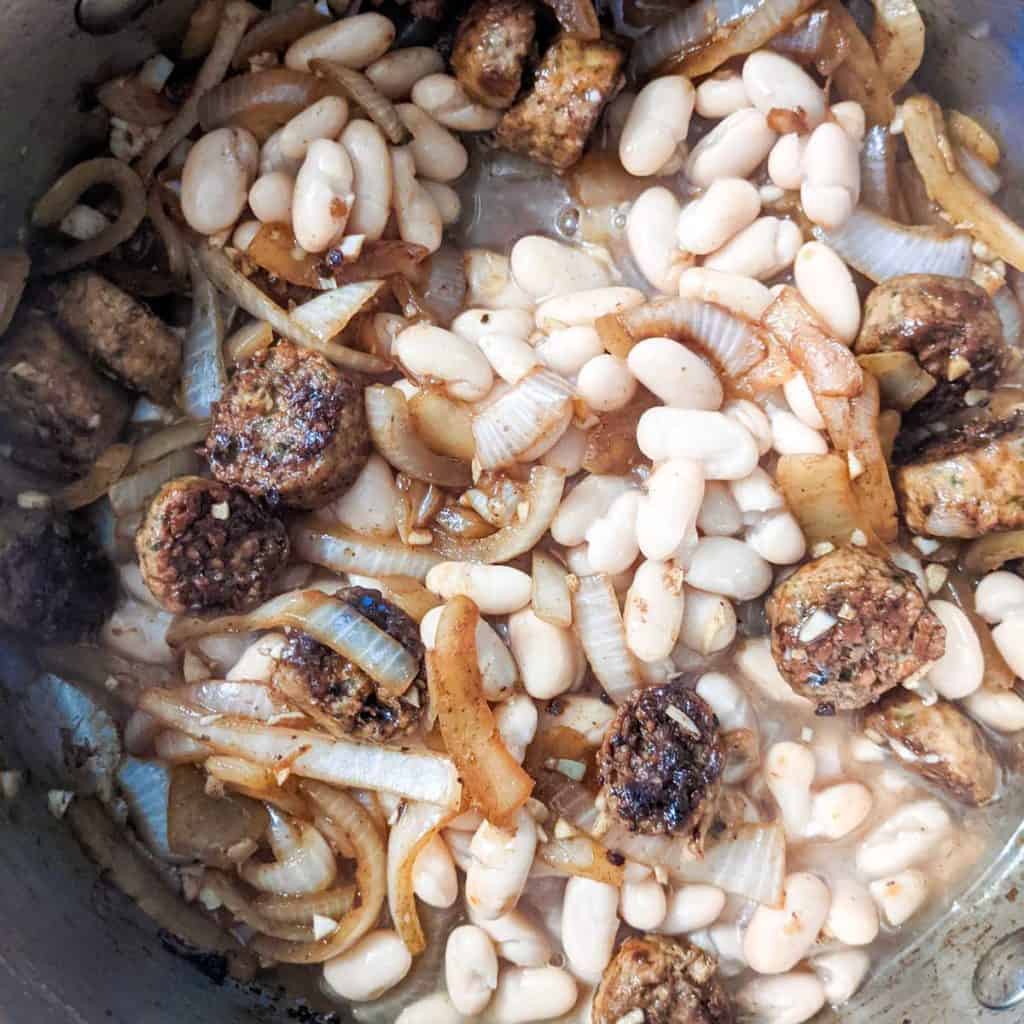 Next, add the cannellini beans with their liquid along with the nutritional yeast and the red pepper flakes. Take a moment to scrape any browned bits from the bottom of the pan and stir them into the liquid; they will amplify the browned sausage flavor in the sauce.
Then, gently fold in the pasta. Bring everything to a simmer and cook for about 2 minutes.
Finally, strain the radicchio. Add it, along with the lemon juice, to the pan, stirring until it is just wilted. Serve immediately.
💡 Tips and Substitutions
The only real tip that I have for this pasta is to be sure to soak the radicchio, unless you know you like it bitter.
The soaking step is easy and really makes a huge difference in the final product.
Substitutions
Radicchio
Radicchio's balance of bitterness and sweetness, its crisp texture, and brilliant color are some of the main things that make this dish special.
Red cabbage or red kale would meet the color requirement but would have a sweeter flavor than radicchio. Curly endive might be a good alternative for its texture and slightly bitter flavor, but its pale color will produce a very beige dish.
Pasta
Mezze maniche rigate — mezze maniche means "short sleeves" and rigate means "grooved" — is a pasta variety that is shaped like a short tube.
Because it is sturdy, it pairs well with the assertive flavors and chunky sausage, while the ridges collect the flavorful sauce.
You can substitute any kind of pasta that you like, though. For example, I think that cavatappi or campanelle would both be good options.
Vegan sausage
I've made this with a few different brands of vegan sausage, and it's worked with very different styles. The thing to keep in mind is that if you use a leaner sausage, you will need to use oil, while if you use a more decadent sausage, you may not need any additional oil at all.
For example, Beyond Meat's "Hot Italian" sausage works well in this recipe. As it browns, it releases fat into the pan. This means that the final result will be too greasy if you add oil to the recipe when using this style of sausage.
On the other hand, I used Sweet Earth "Chick'n and Apple Sausage" when I prepared this recipe for the photos in this article. It is lower in fat, so it needs a bit of oil. That allows the flavors of the sausage to infuse the pasta.
Cannellini
Use any white bean in place of cannellini. Great northern beans would be the closest substitution. Navy beans or small butter beans would work, too.
Want more cozy winter recipes?
Get my monthly (ish) newsletter to learn about my newest seasonal recipes.
---
🧰 What you'll need
Note: This section contains affiliate links. I may earn a small commission if you follow the links and make a purchase. This doesn't cost you anything, and it helps me continue running Bittertreats.
---