This easy bagel recipe incorporates flavors from around the world while retaining many signature notes from classic New York-style bagels.
So, why is it called the Everybody Bagel?
It's designed specifically for home cooks, so you don't have to have a kitchen with miles of countertops, a professional oven, or a giant industrial pot for boiling water. If you can make a loaf of bread, you can make these bagels.
And if you make my "everything plus" topping, these bagels include flavors from all around this world.
This recipe is inspired by everybody, and it's for everybody. Including — especially — you.
Jump to:
🥯 About this recipe
I grew up in Missouri and had always been perfectly happy with the giant, fluffy bagel offerings from the likes of St. Louis Bread Company. Then, I moved to New York.
Living there for the better part of a decade made me into a bagel snob. And when I returned to the midwest, I could not find a bagel that satisfied me.
So, I decided to make my own. At first, I looked for recipes that promised to recreate the New York bagelry flavors and textures in my kitchen. The best one I found was this recipe from Chef Mark Strausman. But after a few tries, I had to admit to myself that my bagel technique was hit-and-miss. The challenges — counter space, timing, boiling — made the process too onerous for anything but special occasions.
Then, I learned about other ring-shaped breads, like Jerusalem bagels (also known as ka'ak al-Qud) and Turkish simit, which involved much more accessible processes. These breads are delicious in their own right, and for me, they also had enough bagel-y qualities to fill the hole in my heart.
Still, I wanted to crack the bagels-at-home code. So, I took elements from ring-shaped breads around the world:
New York-style bagels: chewy texture, longer, cool fermentation
Jerusalem bagels/Ka'ak al-qud and simit: addition of sugar, molasses wash, and no boiling
Italian taralli: addition of fennel
After months of tinkering with ingredients, proportions, and methods, the Everybody Bagel was born.
This bagel doesn't require boiling and comes together as easily as a basic yeast bread. The recipe only calls for four ingredients (five, if you count water), but you can incorporate any toppings or additions you like.
Best of all, it hits many of the essential notes of the New York-style bagel that I miss so much, while standing on its own as a distinct style, not a pale imitation.
✔️ Ingredients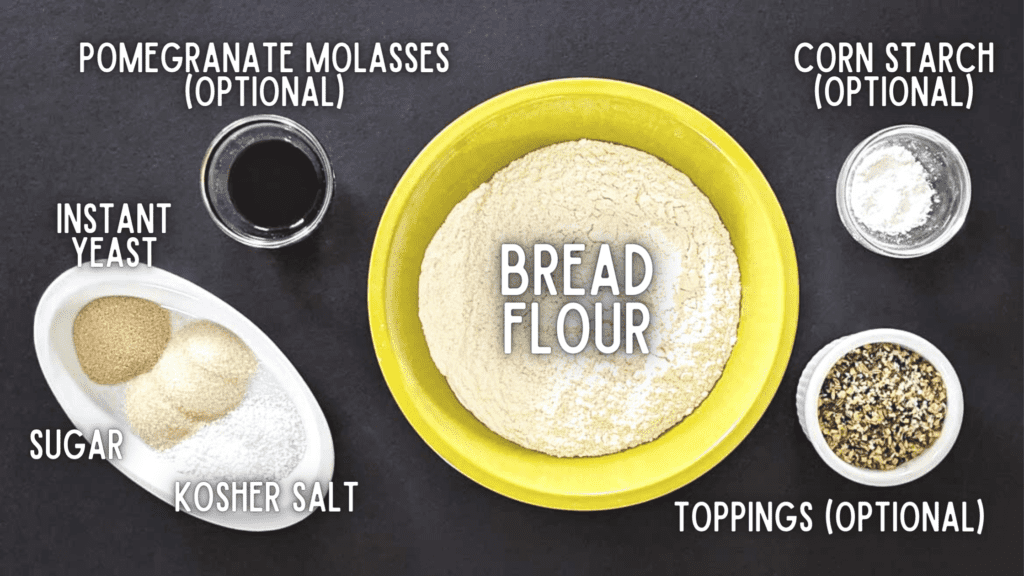 Bread flour
Bread flour is higher in protein than all-purpose flour, and using it in this bagel recipe results in a classic New York-style texture with a hint of chewiness.
If you don't have bread flour, you may substitute all purpose flour. The bagels will still be good; they will simply be fluffier and more delicate.
Instant yeast
As indicated in its name, instant yeast differs from active dry yeast in that you do not have to activate it before using it. Just mix it in with the rest of the ingredients.
Active dry yeast is an acceptable substitute. Just follow the instructions on the package to activate it, and then subtract the water you have used from the total amount in the recipe.
Sugar and kosher salt
A classic New York-style bagel does not contain sugar, although it may contain somewhat sweet additions like diastatic (or non-diastatic) malt powder. The inclusion of sugar in this recipe is inspired by recipes for Jerusalem bagels/ka'ak al-Quds and simit.
The proportion of salt, however, is more in line with New York bagels, and the combination of the sugar and salt create a savory bagel with a barely-there touch of sweetness.
Optional wash and toppings
You may, of course, skip both steps and just enjoy these bagels plain. But the wash and the toppings are where you have the freedom to get creative and make these bagels your own.
I like to use a simple cornstarch wash, which serves the dual purposes of helping the toppings stick to the bagel and giving them a faint sheen that mimics the appearance of New York style bagels. Sometimes, I add a bit of pomegranate molasses to the wash for a hint of tangy flavor and deeper color.
Finally, my topping mix (which I call "everything plus") builds on the everything bagel by adding more flavors from around the world. Black caraway and cumin seeds add pungent, spicy notes. And fragrant fennel nods to Italian taralli, which are ring-shaped, crunchy, breadstick-like snacks that are often seasoned with fennel seeds.
It's definitely a maximalist approach to bagel seasoning. After all, why settle for just everything when you could have even more?
✏️ Instructions
1. Combine the dry ingredients
Measure the flour, sugar, salt, and yeast. I like to use a digital food scale to make sure that the quantities are precise.
Place the dry ingredients into the bowl for a stand mixer.
2. Add water to make the dough
Make a well in the center of the dry ingredients and pour in 1 ¼ cup of water.
Mix together for a minute or two to combine the ingredients into a shaggy dough. You can either use a spoon, your hands, or the #1 setting on a stand mixer.
If the ingredients are too dry to get to the "shaggy dough" stage, add a small amount of water and knead for another minute or two to incorporate.
3. Knead the dough and let it rise
Using a sturdy stand mixer fitted with a dough hook, knead at the #2 setting for about 5 minutes.
If you don't have a stand mixer, knead the dough by hand for 7 to 10 minutes — and get ready for an upper-body workout! This dough is sturdy.
When you're done kneading, the bagel dough should be smooth and quite firm. When you press on the dough, it should bounce back. If it's sticky or soft knead in a small amount of flour.
Transfer to a lightly oiled vessel (a large bowl or similar), and let stand at room temperature for about 1.5 hours, or until doubled in size.
Alternatively, let rise until almost doubled, then transfer to the refrigerator until you are ready to bake.
4. Shape the bagels
When you are ready to bake, remove the dough from the refrigerator and let stand at room temperature for about 30 minutes to warm up.
Start preheating the oven to 475 F. If you have a pizza stone, place it on one of the lower racks in the oven.
Meanwhile, divide the dough into 8 pieces of equal size. I like to use my digital scale to check each piece's weight and ensure the bagels have a fairly uniform size, but you can also just eyeball the pieces if you don't have a scale.
To shape the bagels, you have a choice between two options:
Shape each piece into a spherical ball of dough. Using your fingers, poke a hole in the middle of each ball, then stretch them into a larger ring shape.
Roll the pieces dough into long ropes; I usually go for about 14 inches in length while I'm rolling them (the dough will contract when you stop handling it). Then, wrap a rope around your hand, overlapping the ends. Pinch together the seam where the ends meet. Then, use a flat surface to roll the ring with your hand still in the middle of the loop. Continue rolling until you've sealed up the ends of the loop.
Because the dough is so bouncy, the loops will contract after you shape them, so you should make the holes much larger than you want them to be in the final bagels. I prefer the second shaping method because I find that the bagels retain their shape better during baking, while the poked-and-stretched bagels tend to contract and lose their holes.
Either way, don't worry too much about making them perfectly even. The beauty of handmade bagels is that each one is a little bit different from the others.
5. Proof and bake the bagels
Prepare a baking sheet by lining it with parchment paper or a silicone baking mat.
After shaping, place the bagels on a the baking sheet and cover with a clean kitchen towel. Let them proof for about 30 minutes. They won't increase much in size, but they should be slightly puffy after proofing.
Now, it's time to bake!
If you will be using the bagel wash and toppings, bake on a center rack for about 12 minutes, then remove the bagels from the oven and let them cool just enough to handle. If you will not be using the wash and toppings, bake for about 15 minutes.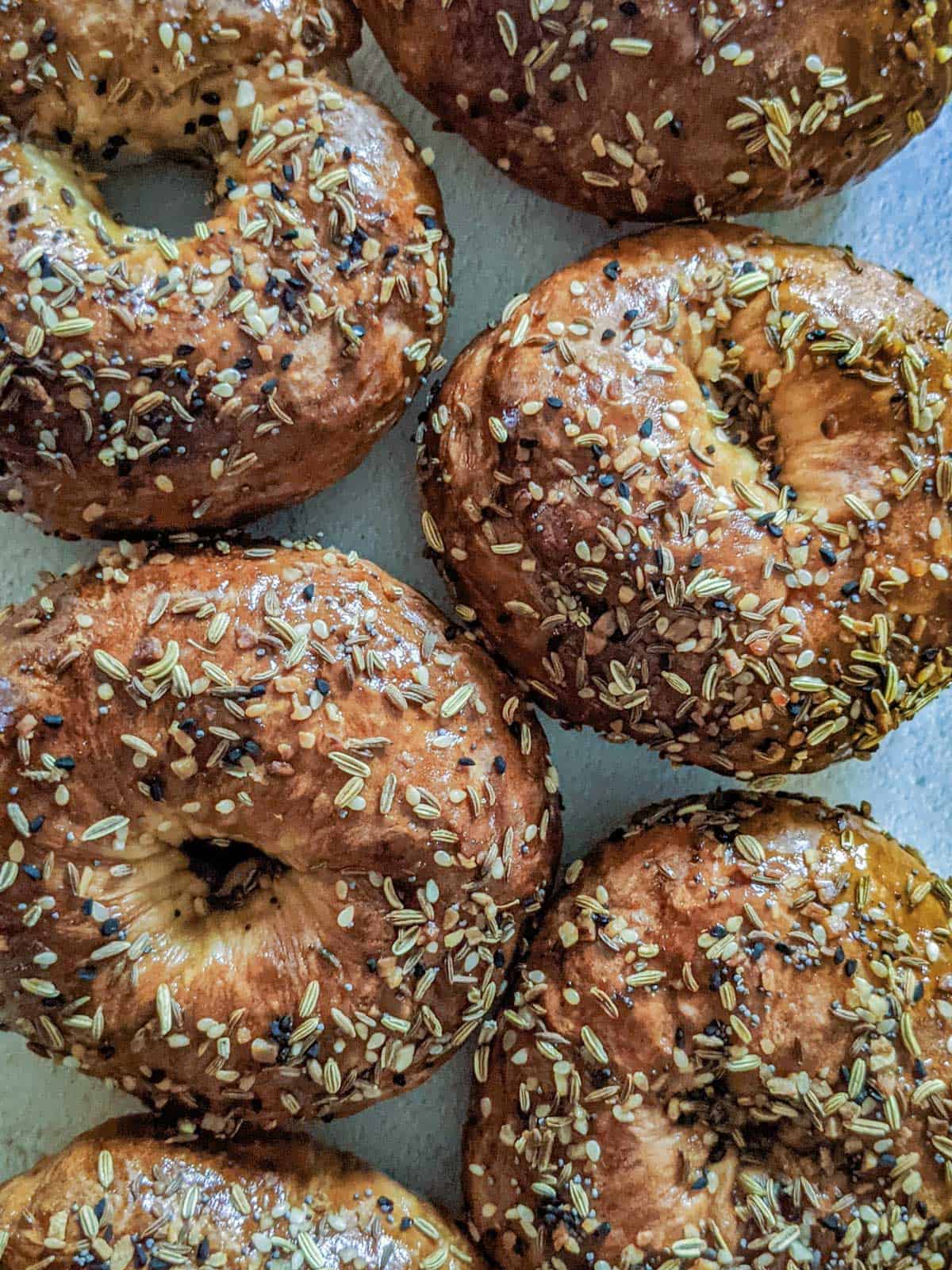 Want more vegan recipes?
Get my monthly (ish) newsletter to get new inspiration in your inbox.
6. Prepare and apply the optional bagel wash
If you are using the wash, prepare it while the bagels are in the oven.
In a small pot, bring ¼ cup of water to a boil along the pomegranate molasses, if using.
In a small bowl, whisk together the corn starch with about two tablespoons of water. Add to the pot when it reaches a boil. Remove from heat and stir continuously until the mixture thickens, then use it as quickly as possible.
When the bagels have baked for about 12 minutes and have cooled down, use a pastry brush to apply the cornstarch wash.
If you will not be using toppings, proceed to step 8. If you are using toppings, follow step 7.
7. Prepare and apply the optional toppings
In a small bowl or other container, combine the topping ingredients, then sprinkle the topping onto the bagels.
Alternatively, prepare any other toppings you like. The classics include:
Poppy seeds
Sesame seeds
Caraway seeds
Dried minced onion or garlic
Coarse salt
You can use these toppings alone, or in any combination that sounds good to you. And the bagel police will not come for you if you go wild in the spice rack and add some unconventional toppings like sunflower seeds or fennel seeds.
If you follow my recipe, you will end up with much more of the topping than you need for these bagels, so you can reserve the rest for another batch, or just use it for other recipes.
8. Bake with the toppings
When you have applied the wash and the toppings, if using, to the bagels, return them to the oven for 2 -5 more minutes. This will to allow the seeds to toast slightly.
Let the bagels cool completely before slicing and/or eating. They will be slightly gummy if you slice into them while they are still warm from the oven.
Store the bagels in an airtight container and use them within a few days, or freeze them to enjoy later.
---
🧰 What you'll need
Note: This section contains affiliate links. I may earn a small commission if you follow the links and make a purchase. This doesn't cost you anything, and it helps me continue running Bittertreats.
Like most breads, this recipe for bagels can be made with minimal equipment. The only things you really need are a bowl, a baking sheet, and an oven.
That said, there are a few items that will make it a lot easier to get consistent results.
In addition, I like to use a few (optional!) specialty ingredients to top my bagels:
You could also try a pre-made everything bagel spice mix.
---