Butter beans bring their satisfying texture, tomatoes add sweetness and umami, and mustard greens lend a little kick to this easy, one-pot stew.
Jump to:
🥗 About this recipe
The original inspiration for this recipe was tavče gravče, a classic Macedonian bean casserole. But it also takes a few cues from Tuscan bean stews, while the butter-bean-and-mustard-green combo owes a debt to soul food.
The result is a dish that is pretty flexible and undemanding. You won't need any unusual ingredients or advanced skills; if you can chop and stir, you can make this recipe.
✔️ Ingredients and substitutions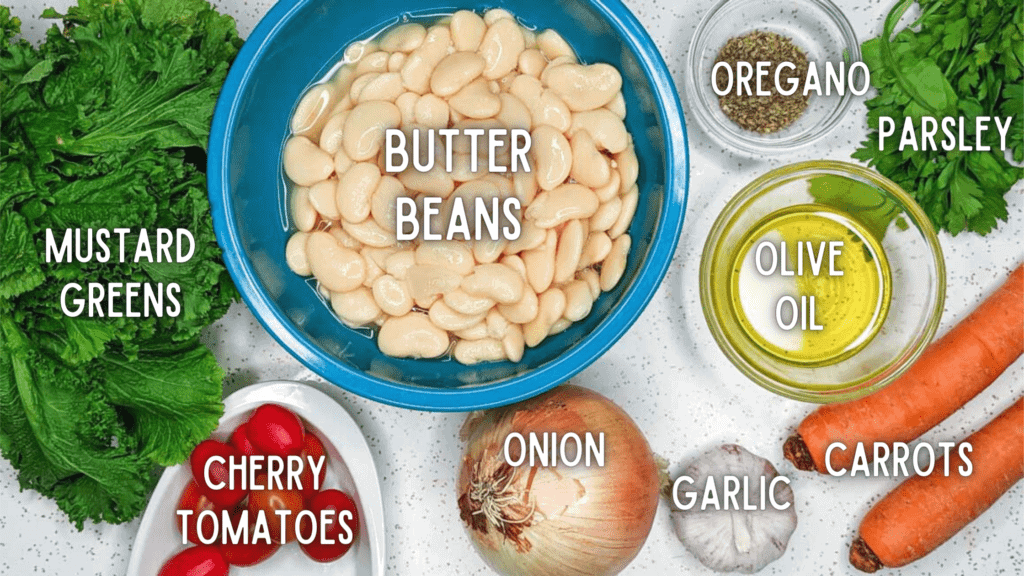 Butter beans
Scientifically, butter beans are the same thing as lima beans. But if you're thinking of the hard, green, starchy little beans that come in frozen veggie medleys, don't worry. The variety of lima beans that are usually known in the US as "butter beans" are actually white-to-beige, large, and soft.
Their large size, pillowy texture, and mild flavor are the qualities that make butter beans work so well in this stew. But that delicate flavor also means that you can swap them out for other options if butter beans are unavailable.
Similar beans include corona beans or Greek gigantes, either of which would work perfectly well here. Cannellini or great northern beans don't have the size of butter beans, but the flavor is acceptable. Or if you can find them, you could try substituting Tetovo beans, which are traditionally used in tavče gravče.
Mustard greens
In the supermarket, you'll typically find mustard greens in bunches near the kale, collards, and turnip greens, or pre-washed and chopped in plastic bags near the salad section.
Raw mustard greens have a more delicate and crisp structure than kale, and their peppery bite is similar to that of turnip greens or arugula. That spiciness will mellow out as they cook, and the texture softens into a silkiness that's closer to spinach than it is to kale or collards.
A general rule of thumb is that you can cook mustard greens briefly – just until they shrink down – for a more peppery result that retains some crispness. If you want the greens to be tender and milder, let them simmer until their color darkens and they soften considerably.
Careful Make sure you wash your mustard greens thoroughly before cooking with them, lest you end up with a gritty stew!
You can use turnip greens or spinach in place of, or in addition to, the mustard greens.
Carrots, onions, garlic, and olive oil
This classic trio forms the sweet and savory foundation for this stew. Onions and garlic are subtly pungent, while carrots are earthy and mellow.
Cooking these fresh aromatics in a generous amount of olive oil infuses the stew with layers of flavor and aroma.
Cherry tomatoes
Tomatoes provide a pop of acidity that brightens the flavors in this stew, while also contributing a hint of umami.
I like to use cherry tomatoes because they tend to be good year round, even in the winter when other varieties of tomato are pale and flavorless.
They also hold their shape more than other types, and I like the texture of the individual cherry tomatoes in this stew.
Any high quality, ripe tomatoes would be good in this recipe, though. Just keep in mind that larger varieties will need to be chopped, and during cooking they will break down into the sauce more than cherry tomatoes do.
Oregano and parsley
Peppery oregano and fresh parsley contribute herbal notes that balance out the savory and sweet elements of the dish.
I prefer flat, Italian-style parsley, but curly parsley would work as well. Just be sure to use fresh, not dried, parsley for the best results.
And if you don't have oregano, a few good alternatives would be thyme, rosemary, or a bay leaf.
✏️ Instructions
Use a large pot or high-walled sauté pan to warm the oil over medium-high heat.
Add the onion with a pinch of salt. Cook, stirring occasionally, until the onion starts to become translucent.
Stir in the carrot, tomatoes, oregano, and garlic, and cook until the tomatoes start to wrinkle and soften.
Drain one can of beans and add to the pan. Don't drain the second can — just add the beans along with all of their liquid.
Bring to a simmer, then add the mustard greens. Keep folding them in occasionally to allow the greens to shrink down.
Then, reduce the heat and simmer until the greens reach the texture you prefer (I like them tender but not mushy).
Stir in the parsley, then add salt and pepper to taste.
---
🧰 What you'll need to make this recipe
Note: This section contains affiliate links. I may earn a small commission if you follow the links and make a purchase. This doesn't cost you anything, and it helps me continue running Bittertreats.
---