Lightly sweet, crunchy clusters, sunshine-y apricots, and mellow pecans make this black sesame granola a wholesome and delicious way to start the day. And eaten by the handful, it's also a satisfying snack.
The black, white, and orange color scheme is just a bonus, and you don't have to wait until Halloween to enjoy it. Anytime you want a breakfast that is as spooky and delicious as you are, this granola is just the thing.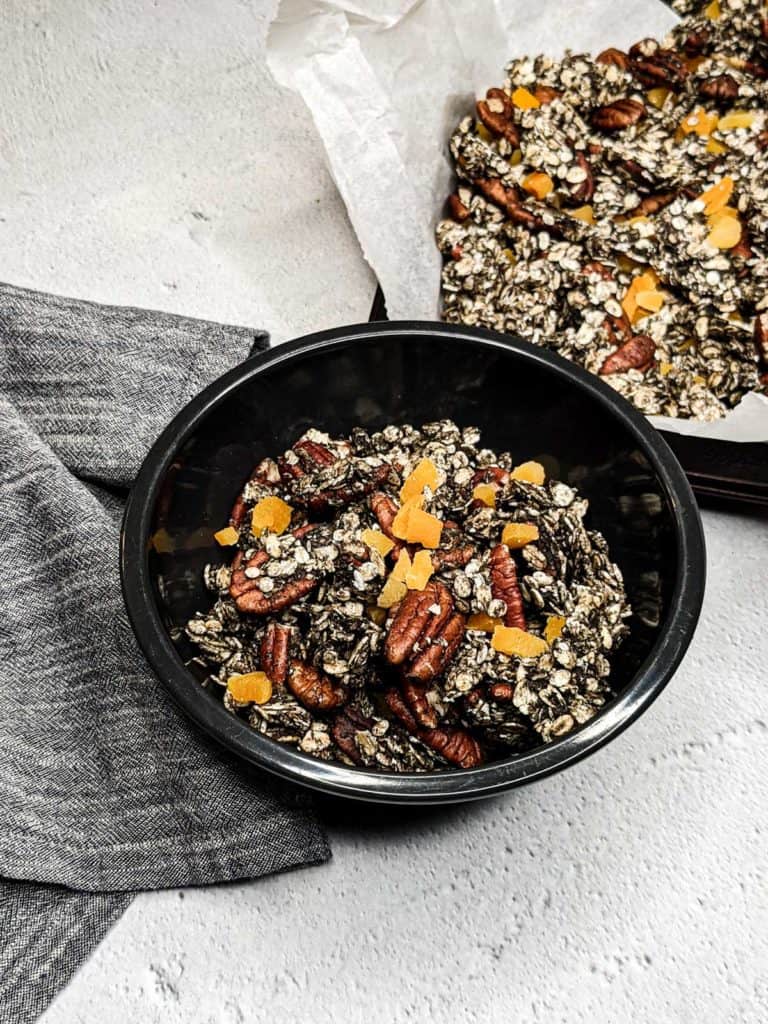 Jump to:
🥣 About this recipe
Once upon a time, I was a Count Chocula kind of girl.
What can I say? When you're too spooky for a basic breakfast, you just have to embrace the dark side.
But there's a big problem with the Count: that pesky gelatin in the marshmallows means that this classically goth breakfast cereal is not suitable for vegans or others who choose a plant-based diet.
When I wanted an eldritch start to my day, big cereal offered a big letdown. That is, until I turned to my (metaphorical) cauldron and brewed up this dark and delicious black sesame granola.
✔️ Ingredients and substitutions
Black sesame paste
The nutty and complex flavor of black sesame is a natural match for hearty granola. A common ingredient in Asian cuisines, black sesame is having a worldwide moment.
Like an intensely flavored goth tahini, black sesame paste offers flavor and color in this recipe, while also helping the granola's crunchy clusters stick together.
When shopping for black sesame paste, look for an unsweetened variety. Check the label on the jar: "black sesame seeds" should be the only ingredient.
If you can't find black sesame paste, regular tahini will be the best substitute. Its flavor tends to be a bit more mild than the black sesame variety, and you won't get the dramatic, black-and-white color combo. But the results will be very similar, taste-wise.
Old fashioned oats and pressed barley
The combo of oats and barley is nutritious, delicious, and adds subtle variations in texture. Pressed barley looks similar to rolled oats, because they are prepared in essentially the same way. Both grains become lighter and crispier after baking, making the granola hearty and crunchy.
Barley does contain gluten, so those who are avoiding it should substitute another grain for the barley flakes. The easiest alternative is to simply use an extra cup of gluten-free rolled oats in place of the barley. Other gluten-free options include rice flakes and quinoa flakes.
Pecans
In this recipe, raw pecan halves get gently toasted as the granola bakes. This yields a mellow, nutty crunch to the finished granola.
You could substitute any nuts or seeds of your choice, if pecans are unavailable. For example, you can't go wrong with almonds or sunflower seeds.
Keep in mind, though, that if you use nuts or seeds that have already been roasted, they may become overdone in the oven. For the best results, add them along with the apricot pieces after baking.
Dried apricots
While the colors of this granola scream "fall," the chopped apricot bits offer a lingering taste of summer.
The tangy dried fruit is a bright counterpart to the rich flavors of black sesame and pecans. In addition, the apricots add a pop of sweetness to this low-sugar granola.
Good substitutes for the dried apricots include dried peaches, cranberries, or mangos. Dried raisins (golden for the color contrast, or dark California raisins for a monochromatic look) would also work well.
Ground flaxseed
Flax is a nutritional powerhouse. But in this recipe, it doesn't only provide fiber and omega-3 fatty acids.
Here, it acts as binding agent, helping to form the clusters that make this granola so wonderfully crunchy.
If flaxseed meal is unavailable, you may omit it. The result will be a more crumbly granola with fewer clusters, but it will still taste great!
Brown sugar, vanilla extract, and allspice
This recipe contains a small amount of brown sugar, which contributes subtle notes of molasses for a lightly sweet granola. Allspice and vanilla also accent the sweeter notes in the sesame paste without making it cloying.
The result is a granola with minimal sweetness. You can, however, increase the quantity of sugar if you know that you prefer a more dulcet morning meal. I would start with ¾ cup of brown sugar (or maple syrup, or cane sugar) and see if that hits the spot.
✏️ Instructions
Preheat the oven to 250° F, and line a baking sheet with parchment paper or a silicone baking mat.
Then, prepare the flax egg by combining the ground flaxseed with the water. Set aside.
In a large bowl, combine the oats, barley, pecans, allspice, and salt.
Mix the black sesame paste, vanilla extract, and brown sugar. These ingredients will form a thick paste. Then, add the flax egg, stirring well to incorporate.
Add the wet ingredients to the large bowl of dry ingredients. Stir well, pressing the black sesame paste into the grains.
When everything is well combined, press the granola mixture into the prepared sheet pan. Bake for 40 minutes, then remove from the oven and allow to cool completely.
Meanwhile, chop the dried apricots into small pieces. When the granola has cooled, add the apricot bits.
The granola should have formed firm clumps. Break up large pieces into bite-sized chunks and crumbles, and mix well to incorporate the apricots. Store in an airtight container at room temperature until you are ready to serve.
---
🧰 What you'll need
Note: This section contains affiliate links. I may earn a small commission if you follow the links and make a purchase. This doesn't cost you anything, and it helps me continue running Bittertreats.
---