Homemade rose water and saffron marzipan is an incredibly easy-to-make treat that will wow your friends and family.
This simple vegan recipe pairs the rich flavor and brilliant color of saffron with delicate rose water. This is a classic flavor combination in Persian and Indian cuisines.
If you're looking for an easy, vegan treat that is perfect any time of year—especially Halloween— read on for the recipe!
Jump to:
🌹 About this recipe
This rose water and saffron marzipan's bright orange color is pretty at any time of year, but it's perfect for autumn.
Here, I've used cookie cutters to create cute mini pumpkins for Halloween. But you can also get creative and sculpt the marzipan into bright yellow flowers for summer, colorful leaves for Thanksgiving, or just about any other shape you can imagine.
And because there's no baking — the only heat involved is just for heating a little bit of water — this recipe is a great activity to enjoy with kids.
For more marzipan flavor variations, check out my Black Sesame Marzipan and Orange Blossom Water Marzipan.
✔️ Ingredients
Almond flour
"Almond flour" and "almond meal" are sometimes used interchangeably, but almond meal is typically made by grinding almonds with their skins on for a coarser product.
For this recipe, you need fine almond flour to get the right texture. Look for flour that is uniform in color, without visible bits of almond skin.
Powdered sugar
Powdered sugar is an essential component of this recipe.
Unlike granulated sugar, it dissolves almost immediately when you add hot water to the marzipan ingredients. This will allow you to create a smooth, evenly mixed dough.
In addition, you will use more of the powdered sugar to dust your surface and rolling pin when you roll out the dough. This will keep everything from sticking, without changing the flavor or texture of the marzipan.
Saffron threads
Saffron threads are the dried stigmas of the saffron crocus, crocus sativus. From Central Asia to Western Europe, from Kashmir to Castilla-LaMancha, this complex and aromatic seasoning has been prized for thousands of years.
There's really no substitute for saffron. If you can't get your hands on saffron, though, a bit of ground cardamom would offer a compatible flavor, and a few pinches of turmeric will approach the golden orange color you'd get from saffron.
Rose Water
Rose water contributes a subtly floral and fragrant note to the marzipan. You may omit it if you don't have it. Or, if you would rather have a more intense almond flavor, use about ½ teaspoon of almond extract instead.
✏️ Instructions
In a small bowl, pour the hot water over the saffron threads. Set aside for about an hour to steep.
Sift together the almond flour and powdered sugar, combining them into a large bowl.
When the saffron-infused water has become fragrant and reached a deep orange-red color, you may strain it to remove the saffron threads or leave them in. Then, add just one tablespoon of the liquid to the dry ingredients, along with the rosewater.
Pulse with a food processor or quickly mix together with a fork to make a crumbly mixture. Gradually add more saffron liquid until you can form a smooth ball of dough. You may not need to use all of the liquid, so go slowly!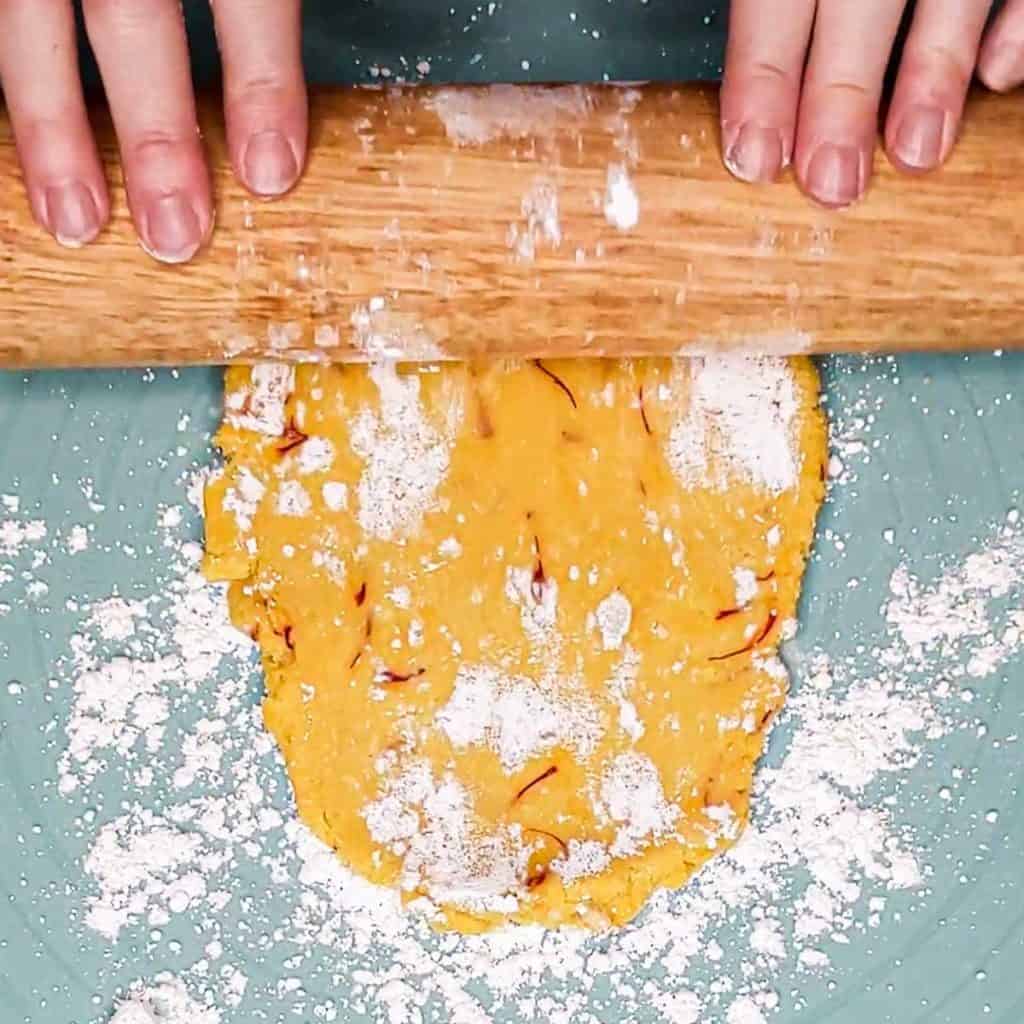 Dust your rolling pin and working surface with powdered sugar (I like to use a pastry mat for easy cleanup), then roll out the dough to about ¼-inch thickness. Use mini cookie cutters to make the desired shape (or shapes). Or, use your hands to sculpt any shape you like.
Place your marzipan pieces on a piece of parchment paper or a nonstick baking sheet to set for at least 30 minutes.
Store in an airtight container at room temperature to enjoy within the next few days. You can also keep them in the refrigerator for about a week, or freeze them for longer-term storage.
Tips:
If you want perfectly smooth dough and a solid orange color without visible saffron threads, strain the liquid before you add it to the dry ingredients, then discard the saffron.
Thicker shapes will stay soft in the middle longer than thinner shapes.
Using a food processor to pulse the ingredients until they form a dough is probably the easiest way to make the marzipan. But mixing in a bowl makes it easier to gradually add liquid for the right texture. Either method is fine!
---
🧰 What you'll need
Note: This section contains affiliate links. I may earn a small commission if you follow the links and make a purchase. This doesn't cost you anything, and it helps me continue running Bittertreats.
You'll just need a few basic pieces of equipment to make this recipe:
And you'll also need a few specialty ingredients:
---