Trick or treat!
These cute little ghosts are made of marzipan that is flavored with orange blossom water for an easy and elegant Halloween sweet.
If you're looking for a spooky-season confection that will be a hit with kids and adults alike, just read on to learn how to make this simple no-bake recipe.
Jump to:
✨ About this recipe
This three-ingredient recipe (well, four if you count water) is a no-bake vegan treat that's shockingly easy to make.
After you combine the ingredients to make a smooth dough, your imagination is the limit when it comes to shaping your marzipan. I've used mini cookie cutters here to create tasty little ghosts, but you can sculpt any shape you like.
Because it's so easy to make, this marzipan recipe is a great activity for younger kids.
But it's also a perfect grown-up after-dinner treat with espresso, tea, or an after-dinner drink.
Want to try more marzipan variations? Check out my Rose Water & Saffron Marzipan or Black Sesame Marzipan.
✔️ Ingredients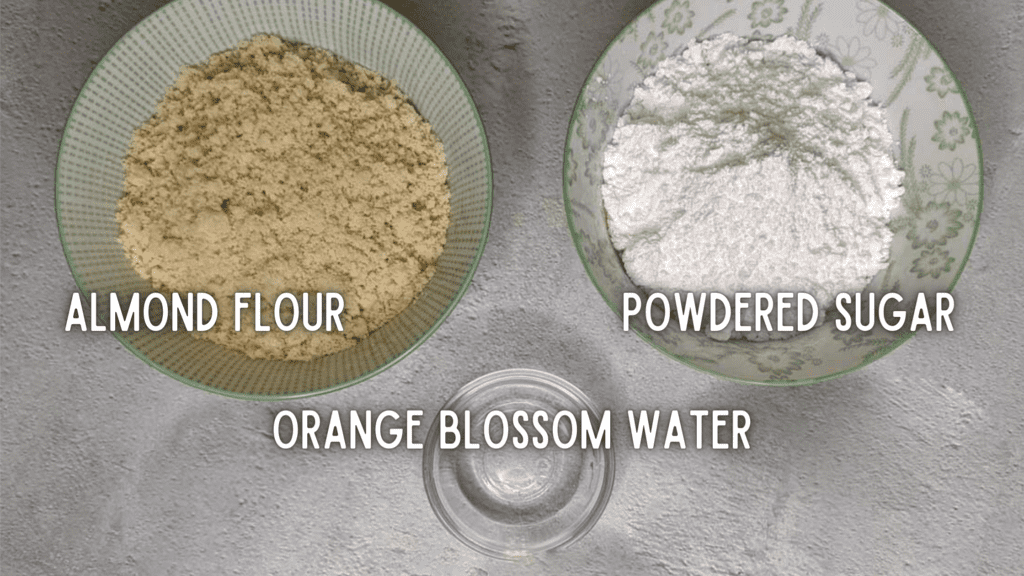 Almond flour
Almond flour gives this recipe its distinctive taste and texture — there's no substitute!
Select a super-fine almond flour, rather than almond meal. The two terms are sometimes used interchangeably, but almond meal is typically a coarser product, because it's made by grinding almonds with their skins on.
To make sure you have the right kind of almond flour, check to make sure that it is uniform in color, without visible flecks of almond skin.
Powdered sugar
Powdered sugar is another essential ingredient. It dissolves almost immediately when you add hot water, which makes it possible to create an evenly blended dough.
You'll also use powdered sugar to dust your surface and rolling pin when it's time to shape the marzipan. It works like flour does when rolling out a pie crust or sugar cookies, but using powdered sugar here prevents sticking without changing the marzipan's texture.
Orange Blossom Water
Orange blossom has a sweet and floral fragrance that reminds me of summer sunshine. It's a traditional ingredient in several Mediterranean dishes, and can also be used in sweets, pastries, and cocktails.
If orange blossom water is not available, you can substitute rose water, or omit it altogether. But it's a distinctive ingredient that is worth having in your flavor arsenal.
Look for it in international markets, or you can buy it online.
✏️ Instructions
In a large bowl or a food processor, sift together the almond flour and powdered sugar.
Add just one tablespoon of the hot water to the dry ingredients, along with the orange blossom water.
Pulse with a food processor or quickly mix together with a fork to make a crumbly mixture.
Continue mixing until you can roll the marzipan into a smooth dough. If the dough won't hold together, gradually add small amounts of hot water until it does.
Dust a surface and a rolling pin with powdered sugar, then roll out the dough. Use your hands or mini cookie cutters to make whatever shape you like.
Leave your marzipan pieces at room temperature on a piece of parchment paper or a nonstick baking sheet. Wait at least 30 minutes, then enjoy.
Tips:
Thicker shapes will stay soft in the middle longer than thinner shapes.
Using a food processor to pulse the ingredients until they form a dough is probably the easiest way to make the marzipan. But mixing in a bowl makes it easier to gradually add liquid for the right texture. Either method is fine!
Store your orange blossom water marzipan treats in an airtight container at room temperature to enjoy within the next few days, or keep them in the refrigerator to eat within about a week. You can freeze your marzipan, but it will change the texture a bit.
---
🧰 What you'll need
Note: This section contains affiliate links. I may earn a small commission if you follow the links and make a purchase. This doesn't cost you anything, and it helps me continue running Bittertreats.
And you'll need a few specialty ingredients that might not be at your local supermarket:
---