This easy, no-bake vegan recipe is perfect for spooky season — or for any time of year! Black sesame marzipan combines the rich flavor of black sesame paste with delicate almond for a nutty and delicious treat.
Here, I've used mini bat- and cat-shaped cookie cutters, but the marvelous thing about marzipan is that you can create any shape that you like, whether by rolling it out and using a cookie cutter or by sculpting it with your hands.
And because it doesn't require any baking or complicated tools, this recipe is a great activity to enjoy with younger kids.
Jump to:
🦇 About this recipe
Black sesame marzipan came into existence as a way to check off three things on my to-do list. I wanted to make something for Halloween, and I wanted to come up with something interesting to do with marzipan. In addition, I was playing with black sesame in different types of recipes, like my Black Sesame Granola.
While I've chosen a Halloween theme for the photos accompanying this recipe, there's nothing spooky about the flavor. The result earned resoundingly positive reviews from my taste testers. The black sesame paste complements the almond flavor, and the hint of rosewater adds a subtly floral note that plays off of and balances the richer, nutty ingredients.
And aside from tasting great, this black sesame marzipan just plain looks cool in any shape. I can imagine using it in a variety of ways, either on its own or in combination with other flavors and colors. (For more ideas, check out my Rose Water & Saffron Marzipan and Orange Blossom Water Marzipan!)
You could even cut back on the black sesame paste to make gray marzipan, in the event that you need to make marzipan elephants, dolphins, or rhinoceroses.
✔️ Ingredients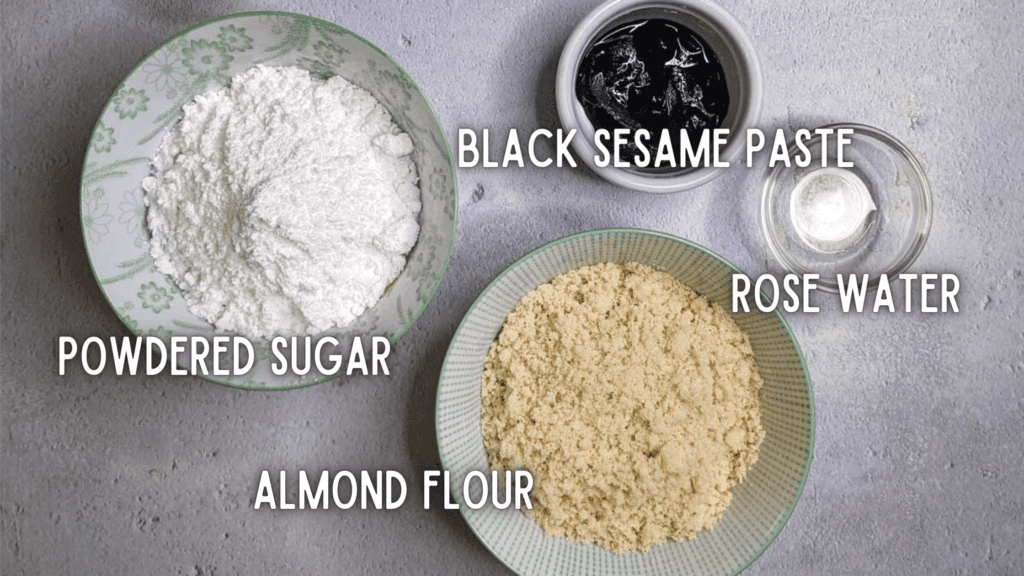 Almond flour
"Almond flour" and "almond meal" are sometimes used interchangeably, but almond meal is typically made by grinding almonds with their skins on for a coarser product.
For this recipe, you need fine almond flour to get the right texture. Look for flour that is uniform in color, without visible bits of almond skin.
Powdered sugar
When you add hot water to the mixture of almond flour and powdered sugar, the sugar dissolves almost immediately. That makes it possible to create a dough that is evenly blended.
Then, when it's time to roll out your dough, you'll use more powdered sugar to dust your surface and rolling pin. This will keep everything from sticking, without changing the flavor or texture of the marzipan.
Black sesame paste
Black sesame paste is a common ingredient in Asian cuisines, but it's not as widely available in my corner of the US. I've found it in local international markets, though, and it's widely available online.
For this recipe, you need an unsweetened variety of black sesame paste. When you look at the ingredients on the jar, the only item should be black sesame seeds.
Like natural peanut butter or tahini, black sesame paste may separate in the jar. So, be sure to give it a stir before you add it to the marzipan.
Rose Water
Rose water is optional in this recipe, as the floral note it adds to the marzipan is fairly subtle. It is a classic ingredient in some Asian and Mediterranean dishes, though, so it's worth tracking down a bottle!
✏️ Instructions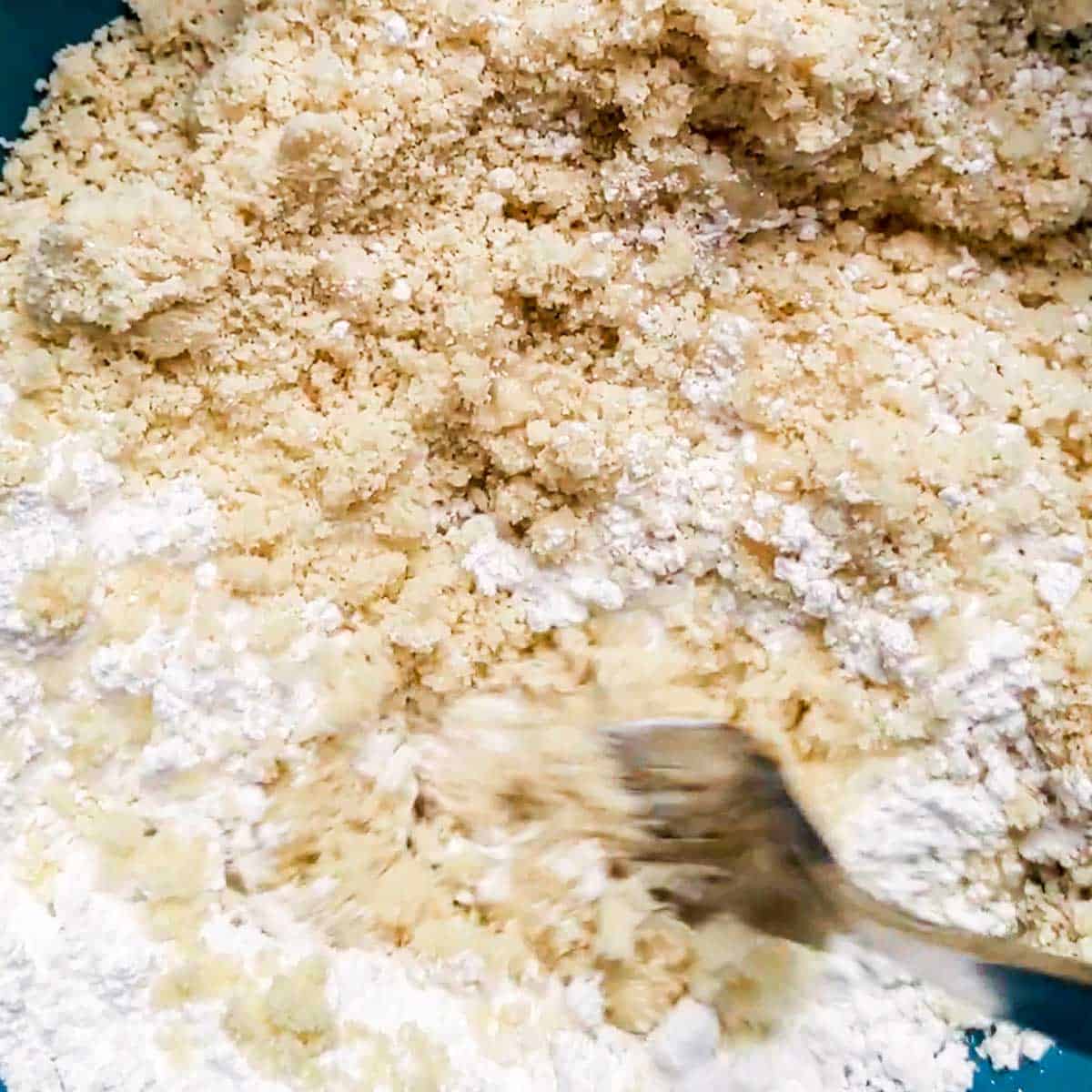 In a large bowl or a food processor, sift together the almond flour and powdered sugar.
Add just one tablespoon of the hot water to the dry ingredients, along with the rosewater.
Pulse with a food processor or quickly mix together with a fork to make a crumbly mixture, then add the black sesame paste.
Continue mixing until the black sesame paste is incorporated and you can roll the marzipan into a smooth dough. If the dough won't hold together, gradually add more hot water until it does.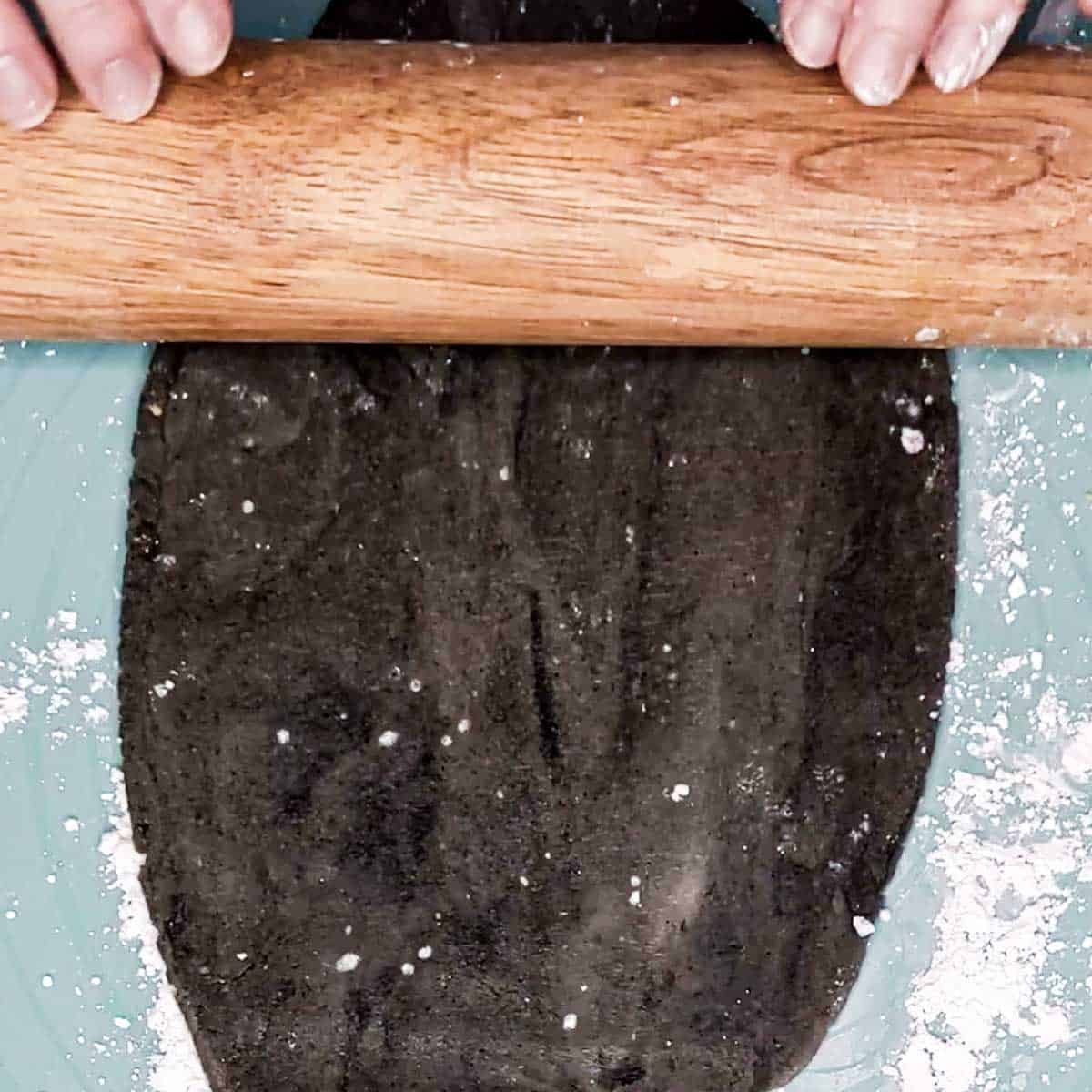 Dust a surface and a rolling pin, then roll out the dough. Use your hands or mini cookie cutters to make whatever shape you like.
Leave your marzipan pieces at room temperature on a piece of parchment paper or a nonstick baking sheet. Wait at least 30 minutes, then enjoy.
Store your black sesame marzipan treats in an airtight container at room temperature to enjoy within the next few days, or keep them in the refrigerator. They will be best within a week after you make them.
Tips:
To make a marbled-look marzipan, divide the dough before adding the black sesame paste. Then, only add it to half, mixing well. Finally, gently fold the black and white dough together until you acheive the look you want.
Thicker shapes will stay soft in the middle longer than thinner shapes.
Using a food processor to pulse the ingredients until they form a dough is probably the easiest way to make the marzipan. But mixing in a bowl makes it easier to gradually add liquid for the right texture. Either method is fine!
---
🧰 What you'll need
Note: This section contains affiliate links. I may earn a small commission if you follow the links and make a purchase. This doesn't cost you anything, and it helps me continue running Bittertreats.
You'll just need a few basic pieces of equipment to make this recipe:
And you'll also need a few specialty ingredients:
---