Whether you're looking for fun Halloween treats for kids, or looking for a sweet confection for a grown-up Halloween party, these three vegan marzipan recipes will fit the bill.
And there's no trick to these treats — just a collection of simple, no-bake recipes that come together with a few simple instructions.
With sophisticated saffron and rose water, rich and nutty black sesame paste, and uplifting orange blossom water, these orange-and-black confections taste as good as they look.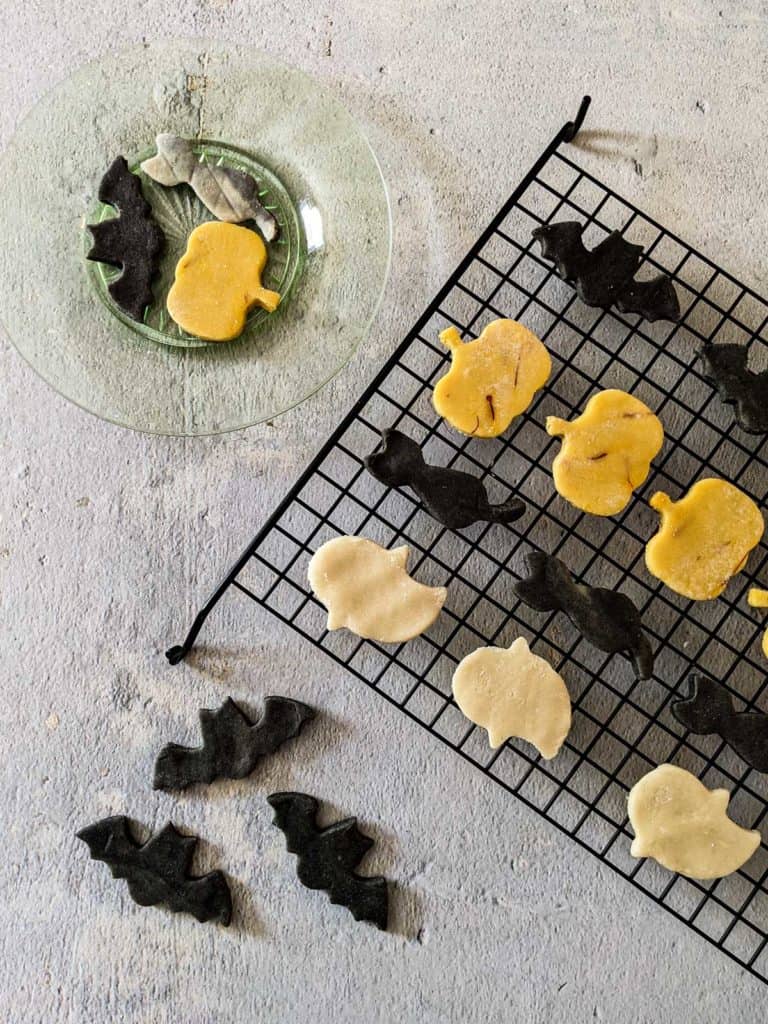 Jump to:
🦇 About this recipe
With their playful Halloween colors and international flavors, these vegan marzipan recipes will wow your friends and family.
And while each variety is a show-stopper in its own right, they are also scary easy to make, with no baking or complicated steps involved.
These recipes are great projects for kids because they can create any shape they want — the only limit is their imagination. The fastest shaping method would probably be using cookie cutters (I used a mini set of Halloween shapes). But you can also use your hands to sculpt something spooky from the depths of your nightmares.
Looking for more dark-and-spooky recipes? Try my Black Sesame Granola or Red Kale Salad with Lemon-Herb Dressing.
✔️ Ingredients
Almond flour
Almond flour gives this marzipan recipe its distinctive flavor and texture.
Because the terms "almond flour" and "almond meal" are sometimes used interchangeably, be sure to check and make sure you're using the right product.
Almond meal is made by grinding almonds with their skins on for a coarser product, so you'll see bits of almond skins in the meal.
Instead, look for a product labeled "fine" or "super fine" almond flour, which is made from blanched and peeled almonds. It should have a uniform color without any darker flecks from the skins.
Powdered sugar
Powdered sugar is an important component of this recipe, because it dissolves right away when you add hot water to the dry ingredients. The resulting marzipan is smooth and evenly blended.
Saffron threads
The spice known as saffron comes from the saffron crocus, crocus sativus, which has been cultivated from Central Asia to Western Europe for thousands of years. Saffron threads are the dried stigmas from the flower, and they have a rich flavor and distinctive aroma.
Black sesame paste
Like natural peanut butter or tahini, black sesame paste has a distinctively nutty flavor and rich consistency. Be sure to give it a stir before you add it to the marzipan, because it can separate after sitting a while.
You'll need an unsweetened variety of black sesame paste for this recipe, so be sure to check the label on the jar. The only ingredient listed there should be black sesame seeds.
Rose Water
Rose water is a classic ingredient in many Asian and Mediterranean dishes. It smells and tastes like fresh rose petals, and it contributes a delicate floral note to the saffron and black sesame recipes.
Orange Blossom Water
Orange blossom is a traditional ingredient in several Mediterranean dishes. It is used for its floral aroma and flavor in recipes for sweets, pastries, cocktails, and more.
I source it from my local international markets, and it's easy to find online. But if you can't track down a bottle of orange blossom water, just substitute an equal amount of rose water or omit it completely.
---
🧰 What you'll need
Note: This section contains affiliate links. I may earn a small commission if you follow the links and make a purchase. This doesn't cost you anything, and it helps me continue running Bittertreats.
You'll just need a few basic pieces of equipment:
And you'll also need a few specialty ingredients to make all three flavors:
📖 Get the recipes!