With deep purple-red leaves and contrasting white beans, this salad serves goth drama in the looks department. Its flavor, though, is nothing but sunshine and sparkles.
That's because this red kale salad is dressed with a blend of lemon, dijon, and fresh herbs that offers bright, summery flavor. And its crisp asparagus and sweet sun-dried tomatoes bring garden freshness to the salad bowl.
It's striking enough to serve for a fancy dinner party and sturdy enough to make ahead for your next picnic or prepped lunch.
Read on to learn how to make the most striking and sensational kale salad ever — in just a few simple steps.
Jump to:
🥗 About this recipe
Sometimes, a recipe has a charming background story. Maybe it's a family favorite, a cherished cultural dish, or a new interpretation of a classic.
But sometimes, a salad is just a salad.
Sometimes it's a hot week in July, and a cool, crisp salad is the only thing that sounds good for dinner. But that salad doesn't have to be boring, okay? And this red kale salad is anything but boring.
This is a salad that brings the excitement. Deeply pigmented red kale is a dramatic backdrop for bright and colorful ingredients, and the dressing is packed with big, fresh flavors, thanks to:
Lemon
Dijon mustard
Fresh garlic, basil and chives
An optional power up of red pepper flakes for a spicy kick.
And red kale's sturdy structure makes this salad perfect for meal prep.
Serve this salad with a light soup or hearty main dish:
✔️ Ingredients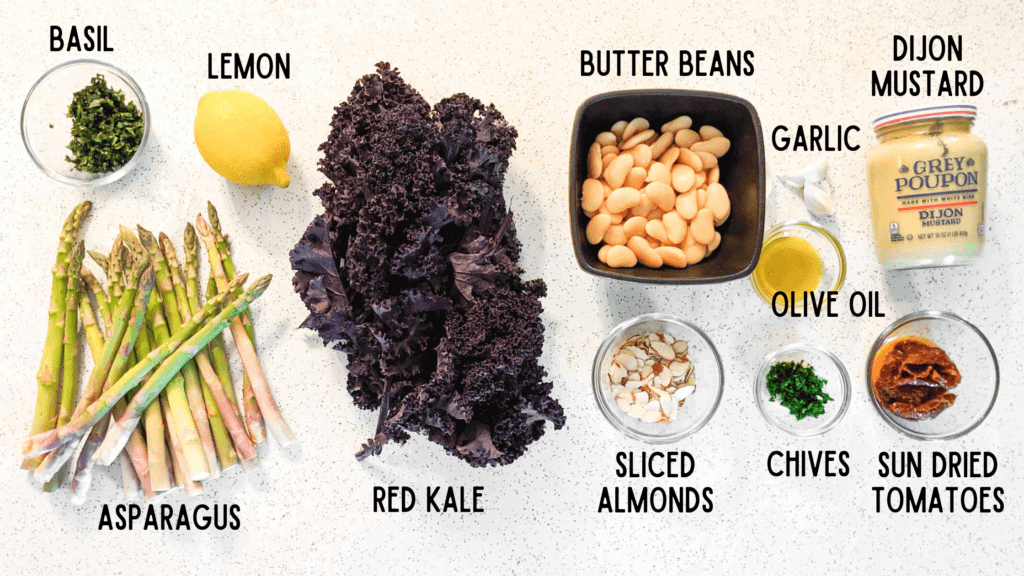 Red Kale
The leafy greens labeled "red kale" at the supermarket can be one of a number of varieties. For this salad, the kale that I used had uniformly deep purple leaves, which were so dark that they were almost black.
But sometimes, I find "Red Russian" kale in the store, which has both dark green and red-to-purple leaves.
Depending on the specific type of red kale you use, the leaves may have an aroma ranging from broccoli to roses. But the leaves will always be sweet and sturdy, and the color will always be lovely.
Kale provides a variety of nutrients, including:
Vitamins A, C, K, and the B vitamin folate
Minerals like phosphorus, potassium, calcium, and zinc
Protein and fiber
Red kale in particular is rich in anthocyanins, the red, blue, or purple flavonoids that are also found in blueberries, blackberries, and red cabbage. Anthocyanins have antioxidant properties, and are thought to have a variety of health benefits.
Butter Beans
Butter beans are large, white lima beans. If your experience with lima beans has been limited to the hard, starchy green things found in bags of frozen veggies, you are in for a treat.
Canned butter beans are soft, pleasantly starchy, and have a mild flavor that makes them a great palette for a variety of dishes.
You may prepare dried beans for use in this recipe, too, but the canned ones are very good and save a lot of time.
Asparagus and Sun Dried Tomatoes
Asparagus and sun dried tomatoes both contribute a bit of sweetness to this red kale salad, balancing the tart dressing.
Use the freshest asparagus you can find, and be sure to keep a close eye on them when you blanch them. It's better to have asparagus that is a bit more al dente than to have it overcooked.
The sundried tomatoes should be the type that is marinated in oil. I have found them pre-cut into strips, but if you can only find larger pieces, a quick chop will bring them down to size.
Basil, Chives, Lemon, and Garlic
These ingredients, along with a bit of olive oil, keep the salad fresh and zingy. Use fresh, not dried herbs, and feel free to substitute similar, seasonal herbs like tarragon or parsley. If lemon is unavailable, apple cider vinegar, or another mild variety, will work in its place.
✏️ Instructions
1. Marinate the butter beans
In a medium-sized bowl, whisk together the ingredients for the dressing:
Olive oil
Lemon juice
Basil
Chives
Garlic
Dijon mustard
Red pepper flakes (if you are using them)
When everything is combined, gently stir in the butter beans. Coat them completely with the dressing.
If you will be assembling the salad later, cover the beans and refrigerate until you are ready to use them.
If you are making the salad now, set the beans aside at room temperature while you prepare the other ingredients. Stir them occasionally to keep the beans from becoming dry.
2. Blanch the asparagus
There's nothing wrong with raw asparagus. If you prefer it in its unprocessed state, you can absolutely just toss the uncooked asparagus pieces into this salad.
But I recommend the blanching method! A quick scald-and-chill brings out the bright green color of asparagus, while leaving it flavorful, crisp and tender.
Bring plenty of water to a rolling boil in a large pot
While the water comes to a boil, prepare the asparagus: snap off the tough ends of the stems, then chop into pieces of about one inch long.
Add the chopped asparagus to the boiling water and let it cook for about 3 – 4 minutes, or until the asparagus is tender-crisp and bright green.
Meanwhile, fill a large bowl with ice water.
When the asparagus is done cooking, quickly drain the asparagus and immediately plunge it into the ice bath.
After the asparagus has cooled completely, drain the ice water and set aside.
3. Prepare the kale
Chop or tear the kale leaves into bite-sized pieces. I like to remove the toughest parts of the stems while leaving some of the crunchy stalks.
You can also remove the stalks and stems entirely, if you prefer not to have those crunchy bits in the mix.
In a large bowl, drizzle ½ teaspoon of oil over the kale, and add a dash of salt. Then, massage the kale until the leaves are glossy and soft. This typically takes about 3-5 minutes, and the kale should still have some structure; when you crush the leaves, they should still bounce back a bit.
4. Assemble the salad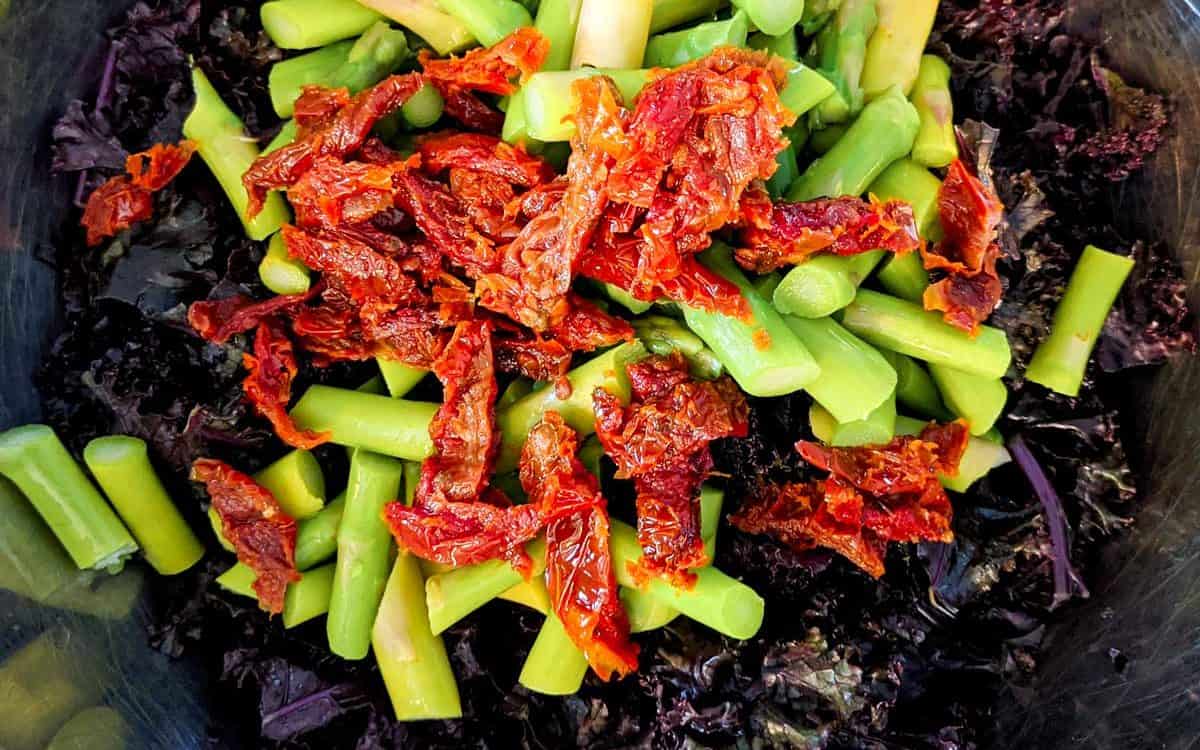 When your beans have been marinated, your asparagus has been blanched, and your kale's been thoroughly massaged, it's time to put them all together.
Add the asparagus and sun dried tomatoes to the kale, then add the marinated butter beans.
Toss everything together until the dressing is distributed evenly, then top with the sliced almonds. You can serve the salad immediately, or cover and chill in the refrigerator until it's time to eat!
💡 Tips and Substitutions
Red kale is extremely sturdy, so this salad is a great one to make for weekly meal prep! The leaves stay crisp for days and days, and the lemon and fresh herbs keep their bright, zesty flavor.
After about a day, though, the butter beans may start to take on a reddish hue. That's from the extended close contact with the red kale, and it's just a cosmetic issue.
But if you want to keep the beans bright and shiny for days, it's easy to do.
Just keep the beans marinating in the dressing in a separate container from kale, asparagus, and tomatoes. Then, add them to the rest of the salad shortly before serving.
Substitutions
Red kale
In this salad, the easiest stand-in for red kale would be a different variety of kale or sturdy leafy green, like:
Green curly kale
Tuscan kale
Collard greens (cut into strips)
Tender greens like baby spinach or arugula will work, but won't last as long if you make the salad ahead of time. If you want to go this route, toss the greens with the rest of the salad ingredients just before serving.
Asparagus
Asparagus lends its bright green color, tender-crisp texture, and sweet flavor to this salad.
Similar veggie options include green beans and sugar snap peas — blanch them following the asparagus instructions.
Butter beans
Large white beans like cannellini will work in place of the butter beans. Green fava beans or edamame would have a different texture, but would be tasty and keep the element of contrast with the red kale.
---
🧰 What you'll need
Note: This section contains affiliate links. I may earn a small commission if you follow the links and make a purchase. This doesn't cost you anything, and it helps me continue running Bittertreats.
A knife and cutting board
One small bowl and one large bowl
A large pot
A colander

A whisk or a fork

Measuring spoons and cups
---