Have you ever found yourself wondering how to use broccoli stems in cooking? Sure, you can make soup, but is that really all there is? This gooey, savory, vegan grilled cheese with broccoli is an easy crowd pleaser that answers that very question. It's perfect for kids or adults; just add a bowl of tomato soup.
If that wasn't enough, this low-waste vegan recipe is really two dishes in one.
That's because the broccoli spread that forms the veggie layer of the sandwich is also great as a standalone paté. You'll love it as part of a fancy snack board, or just spread on toast or crackers.
Jump to:
🥗 About this recipe
Some of my favorite recipes have come about from an effort to keep things from going to waste.
Sometimes it's easy to come up with an idea. An abundance of apples led to my apple ginger quick bread. A bounty of radish greens became radish-green pesto pasta. And too much zucchini isn't even a challenge anymore, because it goes in everything from ratatouille to zucchini bread.
What to do with broccoli stems, though — that was a tough problem to solve. So, I'll admit it: this recipe is the result of an experiment gone wrong. My quest for the best recipe for broccoli stems brought out my inner mad scientist, and I did some weird things to vegetables along the way.
In this case, I had a dream of a dazzlingly smokey, creamy broccoli dish that would take the world by storm. I'd charred a few broccoli stalks under the broiler in hopes of mashing them into a baba ghanouj-style dip. I tried adding onion, and different methods for preparing the broccoli, but I just couldn't make it work.
But I did think that maybe it could be salvaged in sandwich form. A few more tests, some tweaking of the formula, and this broccoli and grilled cheese combo was born.
And because the universe runs on dramatic irony, as soon as I stopped trying to make that yummy broccoli dip and started to focus on the sandwich format, I created a roasted broccoli spread that is also delicious on its own.
So, feel free to double the recipe and set some aside for future snacking. Or use it as a tasty addition to your next vegan cheese board.
✔️ Ingredients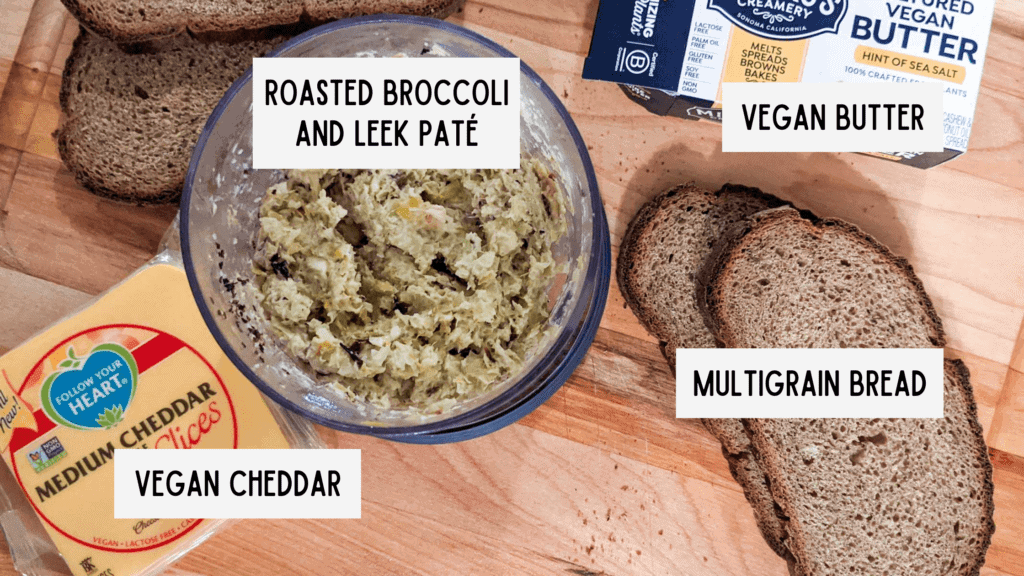 Roasted Broccoli and Leek Paté
Broccoli stems are the MVP in this recipe.
You can absolutely use whole bunches of broccoli in this recipe: stems, florets, tiny leaves and all. But if you have a pile of stems left from another recipe, broccoli grilled cheese is here for you.
The stalks are more mild in flavor than the plant's florets, and that makes this a great option for kids who are undecided on the merits of broccoli.
Roasting broccoli stalks in the oven with leeks and garlic creates a mellow and savory foundation. Then, a few pulses in the food processor with olive oil, tahini, and lemon will produce a spreadable paté. It's creamy and flavorful, and while it tastes great on its own, it really goes beautifully with grilled cheese.
Vegan Cheddar Cheese
Cheese is, of course, essential for a great grilled cheese sandwich. I've enjoyed using both Follow Your Heart and Miyoko's vegan cheddars in this sandwich. Miyoko's cheddar is sharper, while Follow Your Heart has a milder flavor.
You can substitute any vegan cheese you like, though, whether it's homemade or store-bought. For example, I think that a smoked gouda-style cheese would taste great in this sandwich.
Whole Grain Bread & Vegan Butter
It is my opinion that the bold flavors of the broccoli pate and the cheese call for sturdy, flavorful bread. This is not the time to use dainty, delicate white bread.
I've used a few different types of bread in this sandwich, including both caraway rye and my Hearty Brown Bread with Rye and Teff, and both were delicious.
But this is your sandwich, and you should use the bread that you like!
Grilling the sandwich with vegan butter makes the bread crispy and adds flavor to the bread (again, I'm partial to Miyoko's). You could substitute any neutral oil for the butter, though, or even use a nonstick pan without any oil or butter.
✏️ Instructions
1. Make the roasted broccoli spread
Preheat oven to 400°F.
Toss broccoli, leeks, and garlic cloves with the olive oil and a pinch of salt.
Place the broccoli mixture in an oven-safe dish or pan, and roast in the oven for about 30 minutes, or until the broccoli and leeks are soft and have some browned edges.
Remove from oven and let cool, then place in a food processor with the lemon juice and tahini.
Pulse several times, stopping occasionally to scrape down the walls of the food processor, until the ingredients are fully combined but still a bit rough and chunky in texture.
Taste the broccoli mixture and add salt and pepper to taste, pulsing a few more times to distribute.
2. Assemble the sandwiches
As you put the sandwiches together, heat a skillet or a frying pan with low walls over low-medium heat.
Take two slices of bread and place a layer of cheese on each, covering the surface of the bread.
Divide the broccoli mixture between the two slices of bread, spreading evenly to create a thick layer over the cheese. Then, top each sandwich with one of the remaining two pieces of bread.
3. Grill the sandwiches
Melt the butter in the skillet, then place the sandwiches inside with the cheese side down.
Grill until the bread is crisp and takes on a deep golden brown color, about 3 – 5 minutes. Then flip and repeat for the other side.
Serve immediately.
💡 Tips and Substitutions
The worst thing that can happen to a grilled cheese sandwich is too-high heat. Be sure to keep the temperature in the medium to low range to get perfectly toasty bread and melty cheese without scorching the bread.
It's better to err on the side of having the skillet a little bit too cool, rather than too hot. That's because excessive heat will burn the bread before the cheese has a chance to melt.
The exact setting that you should use will vary depending on the particulars of your stove, though. A few things to watch for:
The butter should melt, but shouldn't be hot enough to smoke.
A drop or two of water should sizzle right away when you flick them onto the surface of the pan.
An alternative cooking method would be to use your oven to make an open-faced broccoli melt.
Just keep the oven at 400°F after you've roasted the broccoli and leeks. Spread an equal portion of the broccoli paté over each slice of bread, then place a slice of cheese on top.
Place the open-faced sandwiches on a baking sheet, and place in the oven for about 15 minutes, or until the cheese is melted. Remove from the oven and let cool for a few moments (unless your mouth is made of teflon, in which case just go for it) and enjoy!
Substitutions
Broccoli stems
Instead of just using the stalks, you could use a combo of florets and stems. You'll get a more brilliant green color, and if you leave the paté on the chunkier side, you'll get some of that classic broccoli-floret texture.
I haven't tried this particular substitution, but even though this recipe is for grilled cheese with broccoli, I think cauliflower could be a tasty alternative.
Broccoli rabe (a.k.a. rapini) looks like broccoli, and may work as a substitute in this recipe. Keep in mind, though, that broccoli rabe has a stronger flavor and more natural bitterness. This could be a desirable quality or one to avoid, depending upon your tastes.
Broccolini, on the other hand, tends to be sweeter and more mild, which would make it a good stand-in for broccoli stems.
Leeks
Yellow or white onion could easily stand in for leeks in this recipe.
Red onion or shallots would taste good, but the red color combined with the green broccoli will make the spread look brownish instead of a pretty pale green.
This is less of an issue if you use the darker green broccoli florets in the mixture, and it's not an issue at all if you're not worried about the aesthetics of your sandwich.
Vegan cheddar
Use the vegan cheese of your choice, whether it's homemade or store-bought. I think that a smoked gouda style cheese would go well with the broccoli.
---
🧰 What you'll need to make grilled cheese with broccoli
Note: This section contains affiliate links. I may earn a small commission if you follow the links and make a purchase. This doesn't cost you anything, and it helps me continue running Bittertreats.
---