Hearty, savory, and (optionally) spicy, this vegan chili recipe is the anchor recipe of my autumn repertoire.
For some people, the first day of fall is when they order the first pumpkin-spice latte of the season. For others, it's the first day that's cool enough to wear a sweater, or the day when they set up their Halloween decorations.
But for me, it never really feels like fall until I've made my first batch of chili.
Jump to:
🥣 About this recipe
I've been making variations on the theme of chili since I learned how to cook. Recently, though, I decided that my recipe needed an upgrade.
The result is this vegan chili, which combines classic chili spices and beans with the intense and layered flavors of roasted tomatoes and peppers.
The inspiration for this recipe was my Vegan Chile Verde with Soy Curls. Like this recipe, it also calls for roasted vegetables. I thought that if it worked there, it surely would work in a more classic chili con carne (by way of the Midwestern US). And I was right!
This savory, warming chili is delicious served in a bowl with my Easy, Savory, Vegan Cornbread Muffins on this side. But you can also serve it over rice, stuff it in a burrito, or use it to top a veggie dog with shredded vegan cheese for a magnificent vegan chili cheese dog.
Chili mac, chili cheese fries, chili nachos, chili baked potatoes — this vegan chili is ready for anything.
✔️ Ingredients
Mild and/or hot peppers
You can customize the heat level in this recipe by choosing a combination of sweet and hot peppers that works best for you.
For the photos in this article, I've used a combination of mild poblano peppers and hot habaneros. I've also made this recipe with cubanelles, jalapeños, serranos, and fresno peppers, though.
In my heat-loving household, a batch of this chili made with three habaneros is a little bit on the mild side; perhaps a four or five on a scale of one to ten.
If you'd prefer a very mild chili, leave the hot peppers out altogether (and consider omitting the cayenne pepper as well). Instead, add one more medium sweet pepper, such as a bell pepper or cubanelle.
On the other hand, if you're looking for something hotter, feel free to add all of the hot peppers your heart may desire.
Roma tomatoes
Roasted Roma tomatoes contribute a sweet, savory, and lightly acidic base to this chili.
You may use a different type of tomato if you prefer; just keep in mind that a juicier beefsteak or similar type of tomato will result in a soupier chili. That is, unless you spend more time roasting the vegetables or simmering the chili on the stovetop to reduce the liquid down.
Vegan "beef" crumbles
We are living in a golden age of vegan meat substitutes, so you have a lot of choices for your chili.
For this recipe, I prefer a drier style of faux meat, such as Gardein's beefless crumbles. They have a nice texture, and they absorb the flavors in the chili.
You could also choose a more realistic substitute, like Impossible or Beyond Meat's ground "beef." These options will give your chili a much stronger "meaty" flavor and a chewier texture.
Finally, if you make your own seitan or like to use soy curls or TVP, you could make your own crumbles for this recipe.
Red onions and garlic
Onions and garlic form the aromatic foundation for this chili.
I've chosen to roast all of the garlic and one of the onions with the other vegetables to give them a rich sweetness. The other is chopped and sauteed along with the beef-style crumbles to infuse them with its savory flavor.
I prefer to use red onions, but yellow or white onions will work in their place.
You may adjust the garlic to your preference. Roasting it attenuates most of its sharpness, so if you want a more pronounced garlic flavor, you can hold a few cloves instead of roasting them. Then, mince the garlic and add it to the chili near the end of its simmering time.
Sweet yellow corn
Corn offers a summery sweetness that balances out the savory vegan beef and other ingredients.
You can skip the corn if you don't like it, but it adds a little bit of variety of flavor and texture that works really well in this chili.
Black beans and kidney beans
I like to use a combination of black beans and kidney beans for this recipe, but you can use all of one or the other. You could also substitute pinto beans, white beans, black-eyed peas, or any other type of bean that you like.
You may also choose to use prepared dry beans instead of canned beans, but I prefer the cans because they are easy and fast. I also use the liquid from the cans, because it is flavorful and thicker than broth.
If you strain and discard the liquid from the canned beans, you will end up with a much thicker chili. If you want to thin it out, you can add a bit of vegetable broth or water until you reach the desired consistency.
Olive oil, soy sauce, and spices
The olive oil in this recipe really serves only to keep the onions and faux beef crumbles from sticking to the bottom of the pot.
If you choose a fattier variety of beef substitute, like Beyond or Impossible, it might not be necessary to add any oil.
The soy sauce, on the other hand, is there for flavor. It adds a savory note that blends seamlessly with the other ingredients. You could use Bragg's Amino Acids or tamari in place of soy sauce, or even a small amount of vegan Worchestershire sauce.
Finally, the spices are what make chili taste like chili. Generous quantities of cumin, oregano, and paprika are, in my opinion, absolutely essential for this recipe.
✏️ Instructions
Preheat the oven to 425° F. Prepare a baking sheet by lining it with parchment paper or a silicone baking mat.
Cut the tomatoes in half lengthwise, peel the garlic cloves, and chop the peppers and one of the onions into large pieces. If you are using smaller hot peppers like habaneros, you can leave them whole.
Arrange the tomatoes, peppers, onion, and whole garlic cloves in a single layer on the baking sheet. Roast in the oven for about 30 – 40 minutes.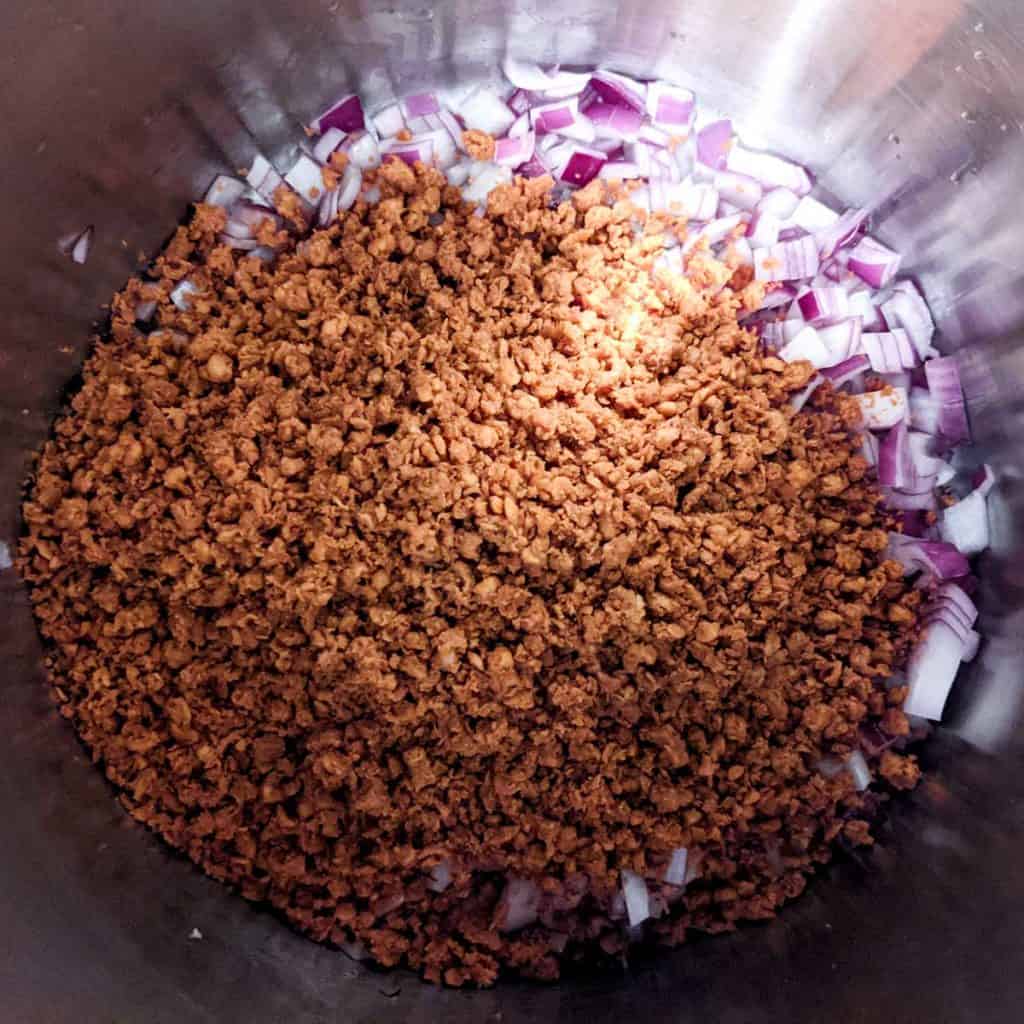 Meanwhile, finely chop the second onion. Heat the oil in a large pot over medium heat, then add the onion and vegan beef crumbles.
Remove the vegetables from the oven when they are soft and have slightly browned edges. Set them aside to cool.
When the vegan beef crumbles have browned slightly, and the onions in the pot are translucent, stir in the cumin, oregano, smoked paprika, sweet paprika, cayenne, and the can of sweet yellow corn.
When the roasted vegetables have cooled (it's okay if they're still warm, they just need to be cool enough to handle), transfer them to a blender or food processor. Pulse a few times to combine the vegetables into a chunky sauce. You may need to work in batches if you are using a smaller food processor.
Add the roasted veggie mixture to the pot. Then, stir in the beans and their liquid along with the soy sauce.
Simmer for 10 – 15 minutes to allow the flavors to combine. Taste the chili and add salt, pepper, or more herbs to taste.
Add the optional garnishes before serving, if desired.
Want more cozy winter recipes?
Get my monthly (ish) newsletter to learn about my newest seasonal recipes.
---
🧰 What you'll need
Note: This section contains affiliate links. I may earn a small commission if you follow the links and make a purchase. This doesn't cost you anything, and it helps me continue running Bittertreats.
---