I can't remember what possessed me to buy a whole pound of dried stinging nettle leaf a few years ago. What I do remember is that when I brewed my first cup of nettle tea, I thought I'd made a big mistake, because it tasted like nothing so much as hot spinach water.
Adding to my sense of error was the sheer quantity of nettle I had on my hands. Because it is so lightweight, that one-pound bag was roughly the size of an overstuffed pillow.
Thus began my quest to make a more palatable nettle tea blend, and this is the result. With the subtle sweetness of fennel and the peppery zip of thyme, this has become my everyday thirst quencher.
So long, spinach water. Hello, refreshing elixir!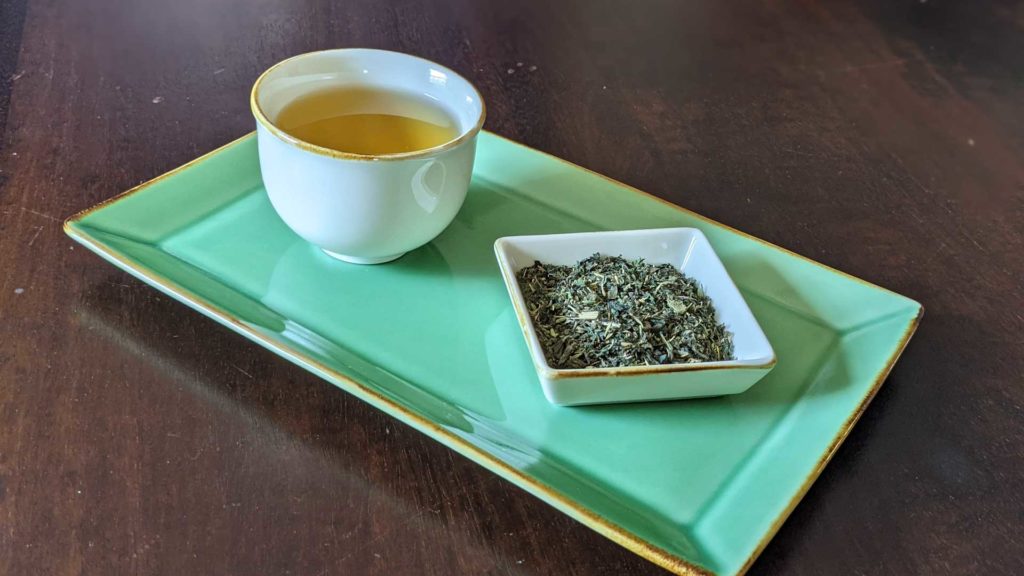 About the herbs in this nettle tea blend
Cultures around the world have used stinging nettle, fennel, and thyme for both culinary and medicinal purposes.
According to the Encyclopedia of Herbal Medicine, my go-to reference for therapeutic plant info, these are a few of the traditional uses of the herbs in this blend:
Stinging Nettle
Nettle is both a medicinal herb and as a culinary ingredient. In cooking, the plant is a leafy green with a mild flavor.
It's rich in vitamins and minerals, including iron.
While plant-based iron is generally not absorbed as well as that from animal food sources, the vitamin C present in nettle may help the body to absorb iron more efficiently.
Nettle leaves have been used in traditional medicine to treat allergies, osteoarthritis, benign prostatic hyperplasia (BPH),hay fever, and more.
Fennel Seed
Fennel's natural sweetness makes it a popular food ingredient in many cultures.
It's known for helping with digestion, relieving bloating, soothing sore throats, and acting as a mild expectorant.
An added bonus is that it also freshens breath.
Fennel seeds can be toxic when used in excess, according to the Encyclopedia of Herbal Medicine. That said, I use them pretty liberally in food and tea blends without any ill effect. Just don't go wild with them.
Thyme
You probably have thyme in your spice collection, but did you know that it's an important medicinal herb?
It has antioxidant and antiseptic properties.
Thyme's traditional uses include treating asthma, allergies, colds, and coughs.
Should you make this nettle tea?
I tend to think of this more as a tonic than as a medicinal brew for a few different reasons:
The quantities of each herb per cup of tea are similar to what you'd find in culinary use
I brew it for optimal flavor (so, up to about 10 minutes), not for maximum strength
I typically just drink one or two cups per day..
So, what do I mean by tonic? Simply put, a tonic herb is a plant that people consume in order to attain or maintain general good health. I drink this tea when I feel a cold or upset stomach coming on, but I also drink it any time I want a caffeine-free refreshment that gives a little boost of vitamins and minerals.
That said, because these are medicinal plants, they have the potential for adverse effects. While this tea isn't as strong as taking a supplement or tincture, I'm not sure whether this dose would be safe for people with contraindications. Particularly if you are pregnant or breastfeeding, I'd urge you to be cautious and get medical advice from a trained professional rather than from me, an internet rando.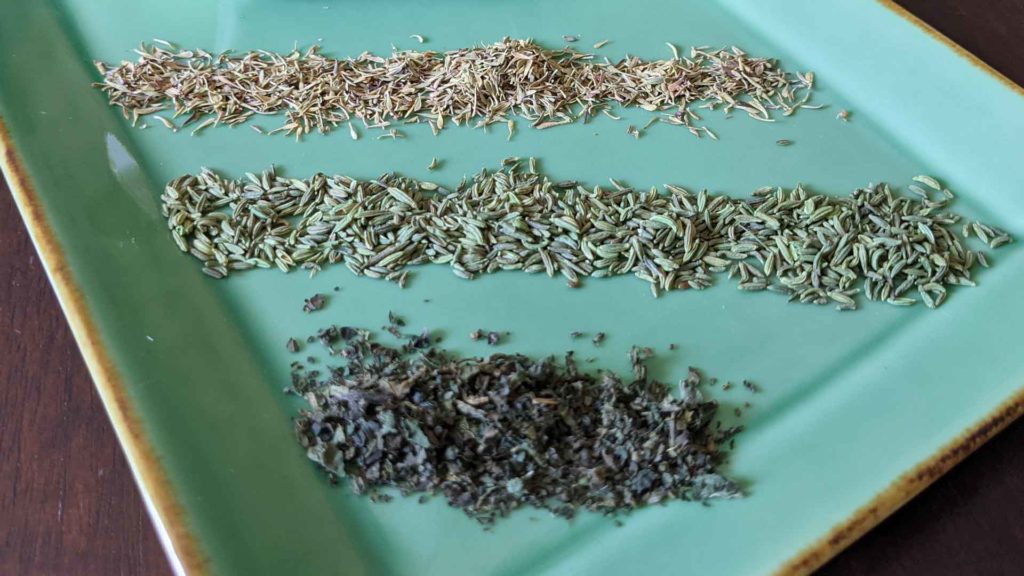 Cautions and Contraindications
Below, you'll find a few examples of reasons this tea might not be right for you. This list is not comprehensive, so please do some research and talk to your doctor before you start chugging this stuff like Gatorade.
Stinging nettle may not be safe to use if you are pregnant. There's some confusion around stinging nettle and pregnancy. Its extract can trigger uterine contractions, which could cause a miscarriage. But stinging nettle leaves are a common, traditional ingredient in pregnancy teas. There's just not a lot of reliable information about the safety of nettle tea during pregnancy, so talk to your healthcare provider if you are thinking of adding it to your diet.
If you are diabetic, have low blood pressure, have kidney problems, or if you have a blood clotting disorder, talk to your doctor before consuming this tea.
Avoid fennel if you have an allergy to carrots, celery, or related plants, and avoid thyme if you are allergic to oregano
Large amounts of thyme may slow blood clotting, and may interact with other supplements or medications that have an effect on clotting.
Pros and Cons of blending your own tea
Aside from the health and wellness considerations around making your own herbal infusions, there's another important thing to consider: money.
Buying herbs in bulk can be more of an upfront expense than just grabbing some tea bags at the supermarket. That expense can be a great investment, or a waste of your hard-earned cash. It depends on how it fits into your life.
3 Reasons to buy herbs in bulk
Cost: One brand of nettle tea comes out to 14 cents per gram, while this blend is closer to 3 cents per gram.
Customization: You can adjust the blend to your taste and try different culinary herbs from your spice rack.
Less waste: You'll end up using less packaging for the tea itself. Then, when you brew it, you can choose a teapot, reusable strainers, or compostable paper filters. No staples, no strings, and no individual tea bags wrapped in plastic film.
3 Reasons not to buy in bulk
Shelf life: You may not go through your herbs quickly enough to justify buying large quantities. Dried herbs don't typically go bad, but they do lose potency over time.
Space: If you have limited pantry space, it may be hard to store the raw materials for your creations.
Taste: you might not like what you bought, and now you're stuck with a pound of it. Then you have to buy a bunch of something else to blend with it so that you can cover up the taste of the thing you don't like.