Are you looking for a cozy, filling soup recipe? This savory, smokey vegan split pea soup is as comforting and tasty as it is healthy.
It takes a few cues from classic European split pea soup recipes while skipping the meat that is so often included.
Read on to learn how to make a cheap and delicious soup that will warm you up on a cold day.
🥗 About this recipe
Split pea soup is a classic dish in many European cuisines, from the UK to Finland to Poland. European colonists also brought it to places around the world, including the US, Canada, Suriname, and Indonesia.
While seasonings may vary, and some versions are made to be thicker than others, there are a few commonalities found in most recipes.
Smoked meat is a typical ingredient, although vegetarian split pea soups like this one omit it. Potatoes and onions are also standards, as are herbs like thyme and marjoram.
This recipe is made to be chunky and filling, although unlike Dutch split pea soup, you cannot stand a spoon in it. Herbs and spices give it a full and rich flavor, showing that you really don't need meat to make a great soup.
It's filling enough to stand alone as a complete meal, but it's also excellent served with a crisp salad and rye bread or cornbread.
Looking for more recipes like this one? If you like this vegan split pea soup, you'll love my Red Lentil Soup.
✔️ Ingredients
Green or yellow split peas
Dried split peas are the main ingredient in this soup. Unlike other types of legumes, split peas cook comparatively quickly, and no soaking is required.
Green split peas have a sweeter flavor, while yellow split peas are on the earthier side. But you can't go wrong either way.
Carrots, celery, onion, garlic and oil
This combination of vegetables create a savory and aromatic base.
This classic combination is the foundation for many soups and stews. Onions and garlic provide pungent notes, while celery and carrots add a sweetness that balances out the earthy flavor of the split peas.
Potatoes
I prefer to use Yukon gold or similar potatoes in this soup. That's because they hold their shape well, even after a long simmer.
The starchy potatoes soak up the flavors of the vegetables and seasonings. And their chunky texture help to make this soup even more satisfying.
Vegetarian chicken bouillon or broth
You can use water alone to form the broth of this soup, but adding bouillon or using vegetable broth results in a richer flavor.
Bay leaves, thyme, marjoram, smoked paprika, salt and pepper
This combination of herbs and spices gives this vegetarian split pea soup its rich and complex flavor.
A typical split pea soup recipe calls for the inclusion of cured, smoked meat like ham or bacon. Smoked paprika replaces the smokey note that those additions would contribute, while bay leaves stand in for the spices that are often used in curing.
Finally, thyme and marjoram are traditional spices that are used in European split pea soups, and they offer the same peppery, earthy notes here.
✏️ Instructions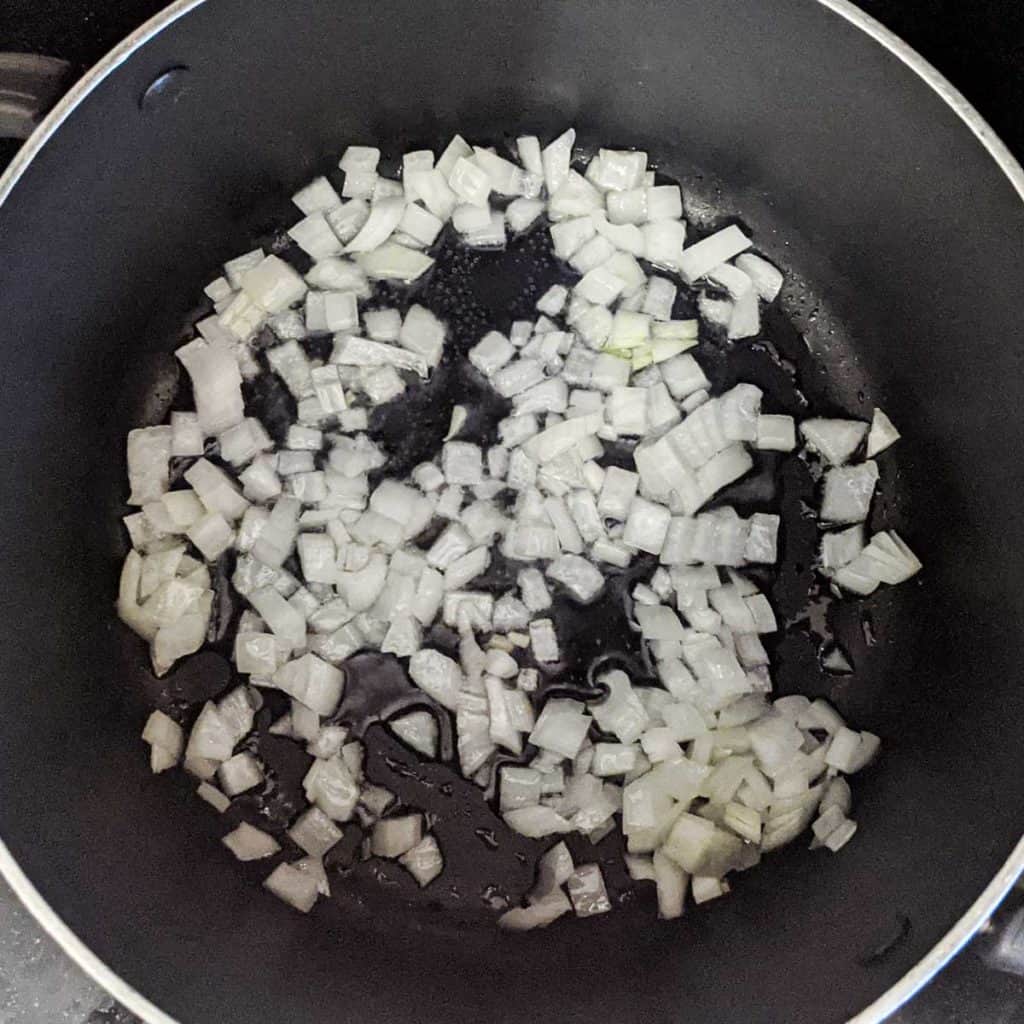 Rinse the split peas and remove any pebbles or bad split peas.
Heat the oil in a large pot over medium heat. Add the chopped onions and saute for about 5 minutes, or until translucent.
Stir in the celery, carrots, and garlic. Continue cooking for about 5 minutes or until the vegetables begin to soften.
Stir in the split peas, potatoes, water or broth, bouillon cubes, smoked paprika, marjoram, thyme, and bay leaves.
Increase heat to medium-high and bring the soup to a boil, then reduce heat to low and simmer for about 2 hours until the split peas are cooked through.
When the soup is fully cooked, you should be able to break up the split peas with some vigorous stirring. This will thicken the broth and give it a creamy texture.
Taste the soup before serving. If desired, add salt and pepper to taste.
---
🧰 What you'll need to make this recipe
Note: This section contains affiliate links. I may earn a small commission if you follow the links and make a purchase. This doesn't cost you anything, and it helps me continue running Bittertreats.
You'll also need a few key ingredients:
---