Smokey, savory, and tangy — this hot German potato salad is an easy, vegan twist on the classic side dish.
A few basic ingredients are all you will need to make this recipe. But you'll be wowed by how much flavor you can get from such a small amount of effort.
It's a perfect side dish to serve a crowd or to make for your weekly meal prep.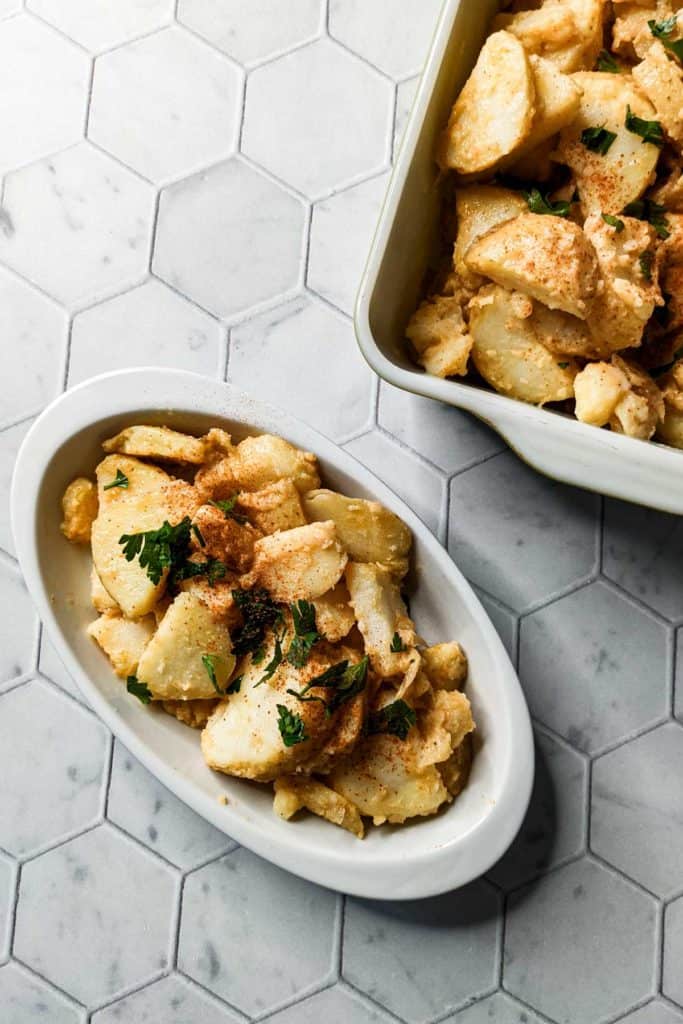 Jump to:
🥔 About this recipe
I remember first trying hot German potato salad as a child at a family cookout. I remember feeling very sophisticated as I tried that exotic (to me!) and flavorful side dish for the first time.
It was potato salad…and it was HOT.
🤯 🤯 🤯
I've had it many times since then, but because traditional recipes include meat, it hasn't been part of my repertoire for years.
Recently, I stumbled across a recipe for German potato salad in an old cookbook, and I decided to develop an easy vegan version.
The main challenge was the typical inclusion of cured meat like bacon or pastrami. Vegan alternatives to these products have improved significantly over the past few years, but every variety I tried for this recipe left something to be desired.
One option became too soggy, while another was too crunchy. Others just didn't taste right.
The breakthrough came when I decided to skip the fake meat altogether. Here, the smokey and spicy notes that bacon provides in traditional recipes are supplied by seasonings that you may already have in your pantry.
This easy recipe is a cinch to double for a large gathering or to scale down for fewer servings. It's great with savory entrees that have a Central European flair. I like to serve it with vegan sausages and Braised Red Cabbage with Caraway Seeds.
✔️ Ingredients
Potatoes
Potatoes absorb the zingy hot dressing like starchy little sponges in this recipe.
You may use russet potatoes if you'd like, but I prefer to use small red or gold potatoes for this recipe.
This is for two main reasons: The first is that they tend to hold their shapes well while boiling and being stirred into the hot dressing. The second is that with their thinner skins, I find it unnecessary to peel these types of potatoes.
Distilled white vinegar
This assertively tangy variety of vinegar has a sharp, clean flavor. It's neutral enough to allow the potatoes to retain their mildly savory earthiness, and it's sour enough to make this a great side dish to serve next to super-savory mains like veggie bratwurst.
Oil, flour, sugar, salt
Together with the vinegar, these ingredients form the hot dressing that gives hot German potato salad its characteristic flavor.
The flour thickens the dressing slightly and helps it to coat the potato pieces, while the sugar and salt provide a savory-sweet balance that pulls everything together.
Garlic powder, smoked paprika, and cayenne pepper or hot paprika
Traditional hot German potato salad typically incorporates chopped bacon or other cured meats.
This vegan version omits the meat, and I've included a blend of seasonings that steps in for the smoke and the spices that would come from bacon or pastrami in an old-school version of the dish.
I like to use hot paprika for a little sparkle of heat, but you can use cayenne if you don't have it on hand.
✏️ Instructions
Fill a large stockpot with water and add salt to taste. Bring it to a boil.
Add the potatoes to the water and boil for about 15 minutes.
Meanwhile, heat oil in another large pot over medium heat. Add the flour, sugar, salt, garlic powder, and paprika and stir to combine into a paste. Add the vinegar and water and stir to combine.
When the potato slices are enough to easily pierce with a fork, but not falling apart, drain them and immediately add to the pot with the vinegar mixture. Toss to coat.
Remove from heat and cover the pot for about 5 minutes to allow the dressing to saturate the potatoes. Top with an additional dash of paprika and chopped parsley, if desired, and serve warm.
---
🧰 What you'll need
Note: This section contains affiliate links. I may earn a small commission if you follow the links and make a purchase. This doesn't cost you anything, and it helps me continue running Bittertreats.
---