Crisp, refreshing radishes are one of the unsung heroes of the produce aisle. They're rich in antioxidants and minerals, and they are just as tasty fresh as they are roasted. For a different take on the root vegetable, this recipe for quick pickled radishes adds a briny tang to their classic crunch.
Use them as a garnish for sandwiches, stews, on a charcuterie board, or alongside any rich and savory dish.
What kinds of radishes should you use?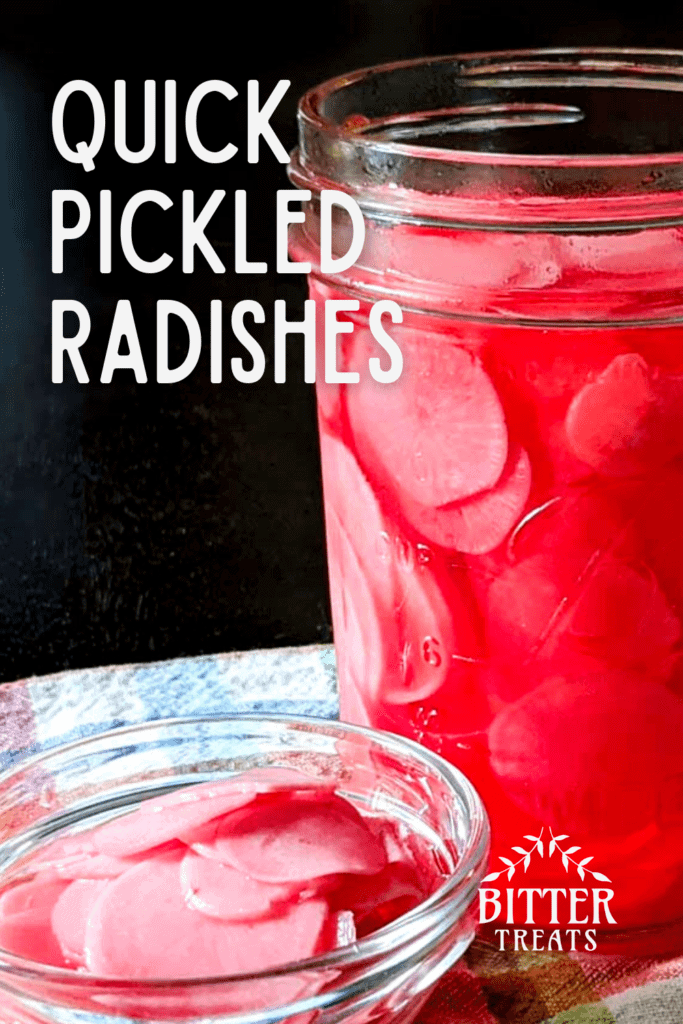 For this recipe, I used the round red radishes that are available in supermarkets all over the US. Their red skins tint the pickling brine a cheerful hot pink, and leave the radish slices infused with a delicate salmon hue. You could easily, however, substitute any other kind of radish, from daikon to French breakfast.
If you are using radishes pulled directly from the garden, or if you bought them by the bunch with the greens still attached, don't toss those leaves! They are wildly nutritious and have a very mild flavor that is similar to spinach.
Sauté the greens with garlic and olive oil, add them to a green smoothie, or use them to make Easy Fettuccine with Radish Greens Pesto. Just be sure to use them quickly, because those delicate greens bruise easily and wilt quickly.
How to use pickled radishes
The tangy, sweet, and sour flavors of pickled radishes balance and accentuate foods that are rich or savory.
Your imagination is the limit, but to get you started, here are a few of the ways I like to use them:
Are pickled radishes stinky?
A warning to folks with sensitive noses — radishes are members of the Brassicaceae family, along with broccoli, cabbage, and brussels sprouts. These vegetables are rich in sulfur-containing compounds, and the pickling process unleashes sulfurous aromas.
So, it should come as no surprise that pickled radishes are stinky, in much the same way that sauerkraut, kimchi, or other fermented cabbage-y vegetables can be.
So, don't worry, the potent funk you'll encounter does not indicate spoilage or contamination. It's the way these li'l guys are supposed to smell.
Here's my suggestion: when you open the jar, instead of thinking to yourself, "Yikes, this smells like farts," try telling yourself that it is "redolent of flatulence." See, it's not gross; it's poetic.
What you'll need:
Note: This section contains affiliate links. I may earn a small commission if you follow the links and make a purchase. This doesn't cost you anything, and it helps me continue running Bittertreats.
You can make this recipe without any special equipment. That said, there are a few items that will make it easier.
The basics include:
A knife and cutting board
A one-quart jar, or two pint jars (use plastic wrap to protect any metal lids)
A small saucepan
Measuring spoons and cups.
Special equipment:
Use a mandoline to quickly make uniform slices
I use a fermentation kit with plastic lids and springs to keep the radishes under the brine. This type of kit is a good investment if you want to make sauerkraut or other pickles.