There was a time in my life when I would have thought it very strange to have lentils and roasted tomatoes for breakfast. I grew up eating cereal almost every day, and I believed that pancakes and french toast were the ultimate morning meals.
I also spent most of my life wondering why I was always so dreadfully hungry (and spent most of my mornings counting the moments until lunch). It turns out that, generally speaking, sweet breakfasts are not the best way to set my body up for a happy day. A low-sugar meal with a hefty dose of protein and fiber is the fuel I need to feel full and energetic until lunchtime.
This savory breakfast hits all of those notes, and it's a natural choice for weekly meal prep. In fact, it's one of my go-to recipes for weeks when I'm planning early morning workouts. That's because I always want to eat something filling and nutritious immediately after exercise. So, I make a big batch of lentils and roasted tomatoes on Sunday, then warm up a portion each morning when I'm ready to eat.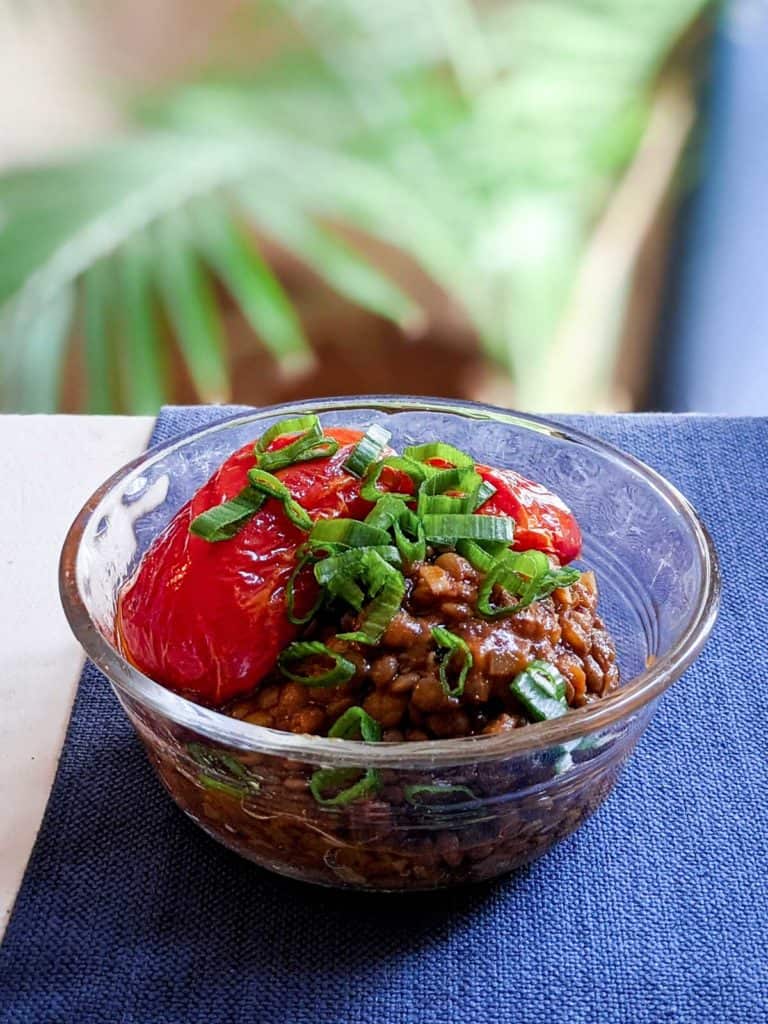 Where did this recipe come from?
I adapted this recipe from Canal House Lentils, a recipe in January 2014's edition of Bon Appetit. The accompanying article characterized the dish as a "Japanese-style" breakfast, but I can't find any other source suggesting that lentils are a typical breakfast in Japan.
Nevertheless, the article planted a seed in my mind: I would not eat this dish for dinner or for lunch, but for breakfast.
After I'd made the Canal House lentils a few times, I decided to add a few tomatoes that I had roasted for another project. Their fleshy, juicy complexity seemed like a natural complement to the earthy lentils. Sure enough, it was a match made for breakfast.
Are lentils and roasted tomatoes healthy?
When it comes to nutrition, lentils are tiny but mighty. Not only are they loaded with fiber and protein, but they're also a great source of plant-based iron.
And let's not forget the tomatoes. Roasting is a great way to use the underwhelming off-peak-season tomatoes. This cooking method brings out their juicy, sun-kissed flavor. But roasting has another benefit: it increases the bioavailability of lycopene and other naturally occurring antioxidants.
But there's more! The vitamin C in the tomatoes helps the body absorb the iron from the lentils. Even though cooking reduces the vitamin C found in tomatoes, they still provide a significant amount of this nutrient. And you can get an extra boost by serving over a few handfuls of vitamin C-rich greens like baby spinach.
What you'll need to make this recipe
Note: This section contains affiliate links. I may earn a small commission if you follow the links and make a purchase. This doesn't cost you anything, and it helps me continue running Bittertreats.
One of the reasons I like this recipe for meal prep is that it doesn't require any fancy, hard-to-clean kitchen gear. You'll just need to gather up a few basics:
And while it's not strictly necessary, I like to use parchment paper or a silicone baking mat to line the baking sheet or roasting pan. It makes it so much easier to clean up after roasting the tomatoes.