Are you an early shopper, or do you wait until the last minute to buy gifts?
Personally, I always find myself scrambling to find something thoughtful for my friends and family while choosing gifts that are in line with my ethics.
But if you celebrate gift-giving holidays, there's no need to experience the procrastinator panic! I've gathered a list of great, affordable gift ideas that are suitable for vegans and omnivores alike.
Read on for a roundup of my favorite vegan-friendly gifts for the foodie who has everything.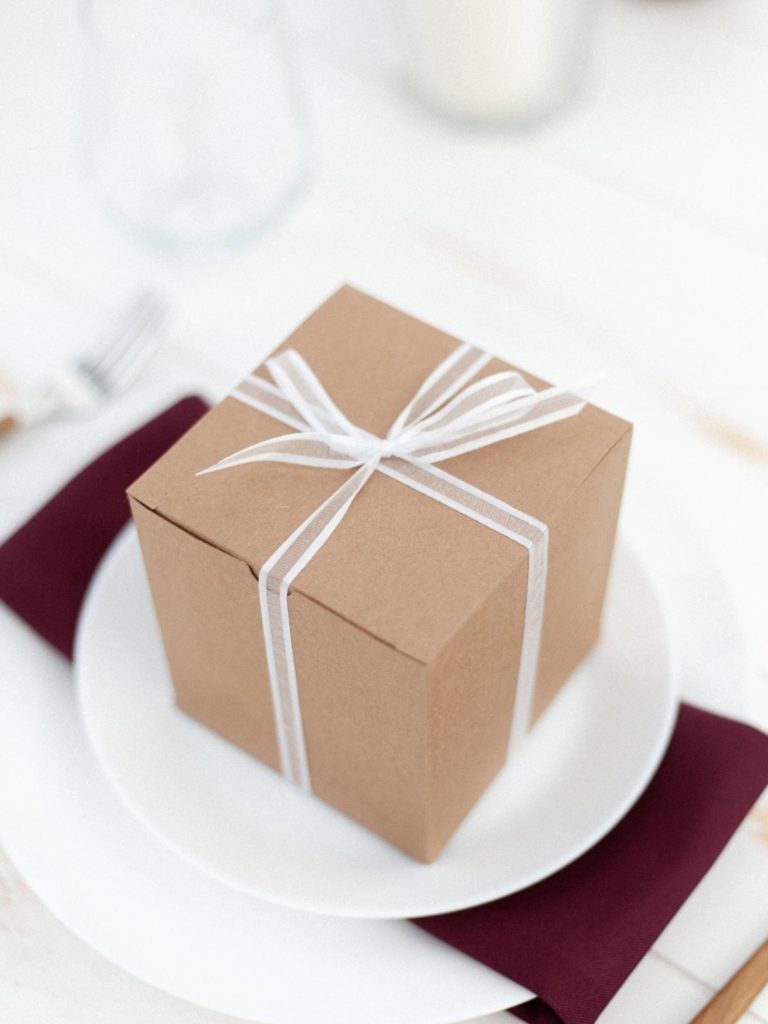 Jump to:
About This Guide
Are you looking for a present for a vegan or vegetarian in your life? Or maybe you're a vegan trying to shop for a co-worker or acquaintance while sticking to your principles.
It's usually easy enough to find big-ticket gifts. But for some reason, it can be difficult to select smaller items for events like office gift exchanges or for family members who insist that they don't want anything big.
This collection of vegan gift ideas consists of some of my favorite things. You'll find delicious snacks and fun gadgets that will delight any recipient. And you won't have to break the bank to bring a smile to your dearest vegan foodie's face.
Note: This article contains affiliate links. I may earn a small commission if you follow the links and make a purchase. This doesn't cost you anything, and it helps me continue running Bittertreats.
Giftable Gadgets
Some kitchen tools end up gathering dust in the back of a cabinet, while others become daily staples. The items gathered here are some that I constantly find myself recommending to friends and family.
A Life-Changing Insulated French Press
French press coffee is objectively the best-tasting coffee. It's science.
And this insulated, stainless-steel French press handily solves all the problems that come with glass carafes.
It keeps the coffee hot, and it's easy to clean without worrying that it will slip out of your soapy hands and break into a gazillion pieces.
A Time-saving (and Eye-Saving) Veggie Chopper
This gadget comes to my rescue every time I need to chop a lot of onions.
Sure, it speeds up the process of chopping potatoes, carrots, cucumbers, and other vegetables, but it's with the onions that it really shines.
That's because the chopped pieces are contained within the covered glass container. And that, in turn, protects my eyes from the tear-inducing chemicals that chopped onions produce.
This humble chopper will make life nicer for anyone who spends a lot of time chopping.
A Pierogi Press for Perfect Dumplings
Is there any food delivery system better than the dumpling?
From gyoza to ravioli, from empanadas to knishes, it seems that every culture has its own version of food-in-dough.
This handy pierogi press can also be used for ravioli or other similar types of dumplings. Sure, you can make them by hand, but this little gadget really speeds up the process!
I like to break mine out once or twice a year to make a huge batch of pierogi, then I freeze them to enjoy — or to share!
---
Specialty Vegan Stocking Stuffers
From sweet to spicy, these treats make perfect stocking stuffers or small presents for an office or family gift exchange.
Authentic Vegan Stroopwafels
The stroopwafel — a traditional Dutch treat that consists of a pair of crispy cookies with a thin layer of caramel in the center — is having a moment here in the US.
Suddenly, I'm seeing them in the impulse-buy section in the grocery store, or in the sweets aisle of convenience stores. But the eggs! The dairy! The humanity!
Fortunately for vegan stroopwafel fans like me, Stroop Club makes a plant-based version that gets rave reviews. It's an ideal pairing for a cup of coffee, tea, or hot chocolate on a chilly day.
Luscious Vegan Caviar
Not only does vegan caviar offer a kinder alternative to the animal product, but it's a lot more affordable, too!
My number-one choice is the vegan caviar from Tsar. It has a silky texture and realistically briny flavor that's popular with vegans and omnivores alike (just check out the Amazon reviews!).
Another strong contender is Caviart, a brand that claims to be the best-selling vegan caviar in Europe. It has a clean, oceanic flavor and a feisty bursting quality on the tongue.
Whichever one you choose, either product is a delicious, affordable, fancy stocking stuffer or gift for any occasion. Just add champagne!
Fiery Harissa Paste for the Spice Lover in Your Life
Pur Spices is a small business that is based in Cleveland. Since I'm in Northeastern Ohio, it's a local business in my neck of the woods.
I first tried their harissa pastes at a local vegan food event, and they were one of my favorite vendors. The original, cilantro, and mint flavors are each very tasty and distinctive enough that we had to buy all three!
And if you like spices but not the heat, you'll love their masala sauce.
Truffle-infused Hot Sauce for Your Fancy Friends
Just when I thought I was getting tired of truffles in everything, truffle hot sauce came along and changed my mind.
Truff Sauce combines the umami-rich flavor of truffles with a tangy hot sauce that is similar in consistency to Sriracha. It's amazing on a breakfast scramble, as a dip for French fries, or spread on a burger in place of ketchup.
And it's gluten-free, vegan, and comes in both "hotter" and "white truffle" varieties. With these options, you can find just the right balance of heat and flavor.
---
Inspiring Vegan Cookbooks
An accomplished vegan chef is often some combination of an artist and a mad scientist. Peek into the minds of some of my favorites with this collection of vegan cookbooks.
Veganomicon
By: Isa Chandra Moskowitz and Terry Hope Romero
Who is it for? New vegans and vegetarians, long-term vegans looking to expand their repertoire, and veggie-curious cooks
The Veganomicon is like the Joy of Cooking for vegans. It's a great big cookbook with more than 250 recipes that draw inspiration from cuisines around the world. And for those of us who are new to the whole plant-based eating thing, it contains great info on how to build up a vegan pantry and definitions of terminology.
This 10th-anniversary edition contains new color photographs (a big improvement over the original) and a slew of new recipes.
Sweet Potato Soul: 100 Easy Vegan Recipes for the Southern Flavors of Smoke, Sugar, Spice, and Soul
By: Jenné Claiborne
Who is it for? Anyone who loves Southern cooking, Soul Food, or comfort food classics
Jenné Claiborne is a chef and the creator of the Sweet Potato Soul food blog. In this cookbook, she offers vegan interpretations of classic dishes, as well as creative riffs on Southern staples.
This cookbook proves that plant-based food isn't limited to sad salads — you can load up your plate with cheddar-chive biscuits, jambalaya, fried okra, or sweet potato pie.
The Korean Vegan Cookbook: Reflections and Recipes from Omma's Kitchen
By: Joanne Lee Molinaro 
Who is it for? Vegans, vegetarians, and omnivores who love Korean food
Joanne Molinaro was, until recently, an attorney and TikTok star who went viral because of her beautifully narrated and artistic cooking videos.
Her first cookbook was released in October of 2021, and within a few weeks became a New York Times bestseller and received an array of awards.
The only caveat for this cookbook is that, depending upon where you live, some of the required ingredients may not be readily accessible. If you are in the US, you can order almost anything online, but I understand that access to specialty ingredients can vary in some countries.
---
Cute Vegan-Themed Gear
The vegan activists in your life are sure to enjoy these adorable and conversation-starting gifts.
A Snarky Mug
Contrary to the stereotype of vegans as mellow hippies, the vegan coffee mug ecosystem is full of sass.
Because that's because we're all a little bit sarcastic until we've finished our coffee — or maybe it's because most of us get a bit tired of answering the same questions over and over again.
Either way, these mugs answer some of the most common questions that vegans get, so we don't have to.
And for the record, it's really easy to get enough protein, and the hardest thing about being vegan is actually listening patiently as people tell you which animal product they could never give up (it's almost invariably bacon or cheese).
A Whimsical Kitchen Towel Set
Cotton towels are some of the most underappreciated items in the kitchen.
From cleaning up spills (and saving paper towels) to covering rising loaves of bread, these little bits of fabric get a workout in my kitchen.
And if they can promote plant-based eating at the same time, well, all the better! Here's to fun and functional gifts.
A Cutting Board With a Dark Sense of Humor
"This is where I murder my vegetables." This slogan, engraved on a natural bamboo cutting board, could be just the thing for someone special on your list.
If you're shopping for a vegan who has a loveably twisted sense of humor, this bamboo chopping block will definitely make them laugh…or at least bring a dark twinkle to their eye.
And because it's handmade (with lasers!) in Michigan, this vegan gift also supports small business owners.
Did you find the perfect gift (or something that you want for yourself)? If you're still looking for the perfect present, let me know in the comments, and I'll see if I can help!