Crisp, flavorful fermented green beans are a tasty treat that you can easily make at home.
With savory garlic and spicy chili peppers, these lacto-fermented beans make a zesty garnish for a Bloody Mary. They're also a perfect addition to a snack board or a pickle tray.
You'll just need a few simple ingredients and the most basic equipment for this recipe. And the amount of hands-on prep time is very minimal — all you'll have to do is chop, stir, pour, and then wait patiently as nature does all the work for you!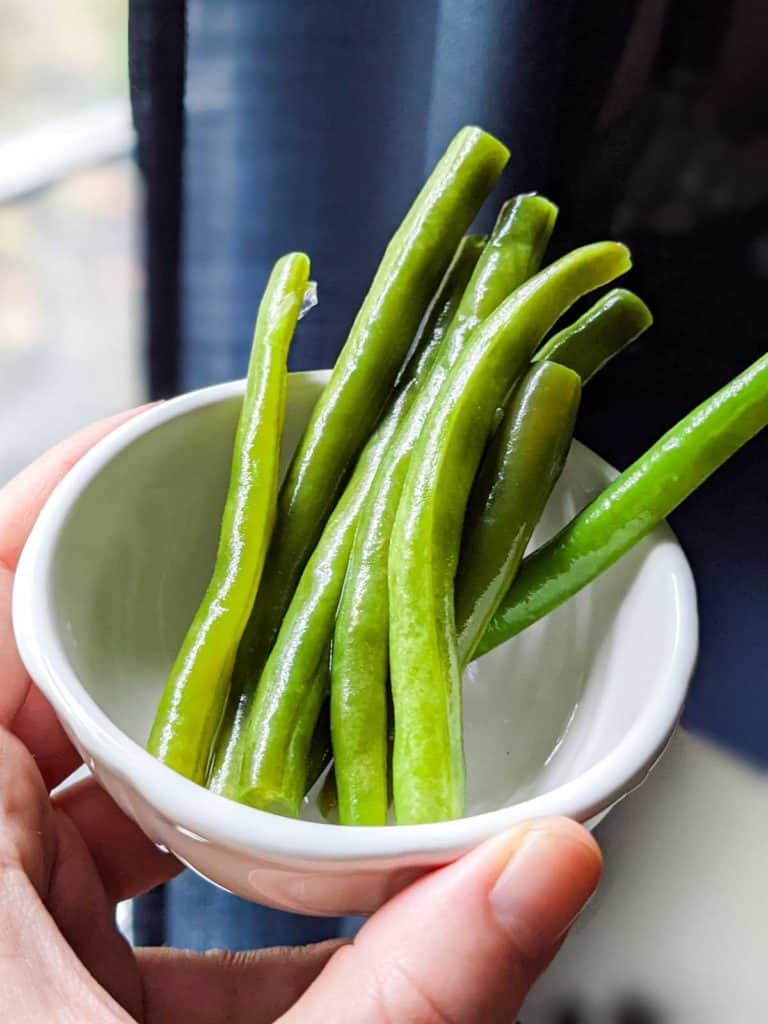 Jump to:
🥗 About this recipe
At harvest time, I often find myself scrambling to preserve the fresh produce of summer while it's at its peak flavor and nutrition. Fermentation is one of the oldest and most traditional ways of doing just that.
When people think of pickling, they often think of cucumbers and other vegetables that are brined in a solution of vinegar, sugar, salt, and spices. But all you really need is salt and water to make tangy, effervescent pickles.
Fermented foods use the bacteria that are naturally found on raw vegetables to create an acid environment. This prevents "bad" bacteria — the kinds that cause food to rot or that make humans sick – from proliferating and helps the food stay safe to eat for a much longer period of time.
And as a bonus, the resulting savory, tangy veggies are chock-full of probiotics and other nutrients.
These spicy pickles are primarily based on this recipe for lacto-fermented green beans, which is super basic and allows for a lot of customization. If you'd like to experiment and want inspiration, though, there are loads of fermentation methods out there.
For example, just for green beans, you can find recipes for dilly green beans, which are fermented with fresh dill, or recipes that use ginger, bay leaves, and other herbs.
Looking for more recipes for pickled or cultured foods? Try my Quick Pickled Radishes or Homemade Soy Yogurt!
✔️ Ingredients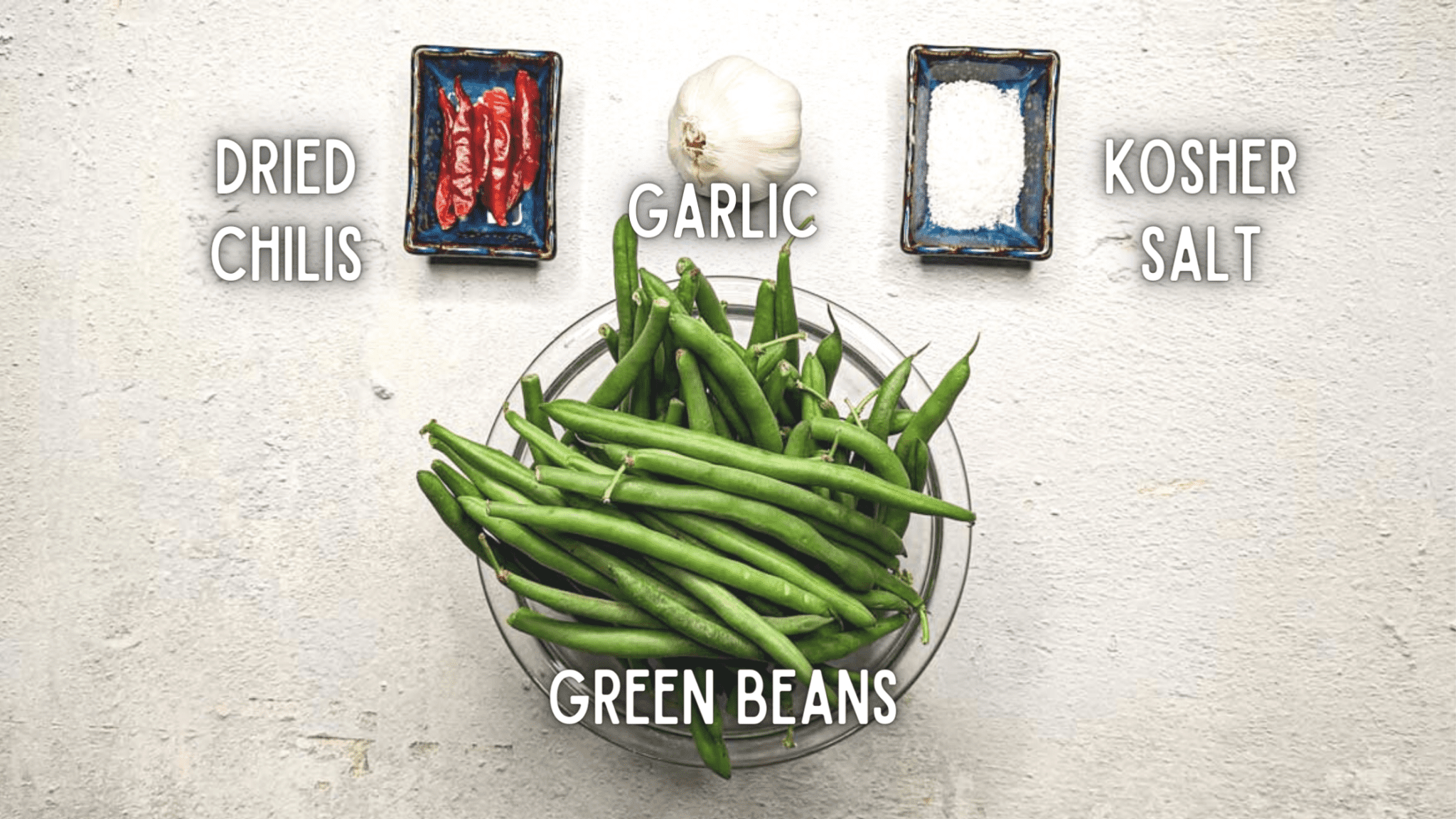 Green beans
Use fresh, crisp green beans for the best results. Dry, shriveled green beans do not make good pickles. I learned this the hard way so you don't have to!
You can also use yellow wax beans, purple green beans, or other varieties in place of the green beans in this recipe.
Salt water brine
The brine for this recipe contains just two ingredients: water and salt.
You'll need non-chlorinated water. Tap water is fine if it's been run through a good filter; I use water from my Brita pitcher.
As for the salt: I've used kosher salt or pickling salt in this recipe, and both have worked just fine. You can also use sea salt or mineral-rich Himalayan salt.
Basically, you just need to avoid iodized table salt, which won't work for fermentation, and any salt which contains anti-caking agents (check the label to be sure). Cultures for Health has a handy guide for choosing high-quality salt for fermentation.
Garlic cloves and dried chili peppers
Strictly speaking, these ingredients are optional. You can make yummy fermented green beans without them.
But this is my favorite recipe for pickled green beans, because the garlic and peppers work so well with the sweet, crunchy vegetables.
Fresh garlic, which isn't too dried out, will work best, and I like to use whole dried chili peppers that I buy from my local Asian market. The heat level can vary quite a bit in this type of pepper, and milder peppers will result in very minimal spiciness, while hotter ones can get very potent over time as the beans ferment.
If you don't have dried chili peppers, whole black peppercorns or red chili flakes will work as substitutes. I like heat, so I would use at least half a teaspoon of either one. If you want a milder hint of spice, use just a pinch instead.
✏️ Instructions
Preparation
Make the brine by adding the salt to the filtered water. Stir until it is completely dissolved. The brine will be slightly hazy, but you shouldn't see individual salt crystals.
Then, peel the garlic cloves and use a flat object to crush them. With a sharp knife, cut lengthwise slits in the dried chili peppers. Place the garlic and chili peppers at the bottom of a very clean mason jar.
Rinse the green beans and allow them to dry, then cut off their ends and their stems.
Place the jar on its side, which makes it easier to line up the beans. Place the green beans in the jar, packing them tightly. Ideally, you'll have enough green beans to pack them in so tightly that you can't fit a single additional bean. Keep the garlic and chilis near the bottom of the jar, under the green beans.
Packing the ingredients in this way is especially important if you are not using a fermentation weight. That's because the snug fit will prevent the beans and other ingredients from floating above the brine. The brine protects the beans from mold and undesirable bacteria, so you need to keep them submerged.
Turn the jar right side up, and pour the brine over the green beans, garlic, and chilis. The beans should be completely covered, leaving about an inch of air at the top of the jar. Place a fermentation weight on top of the beans, if you are using one.
Fermentation
Cover with an airlock lid or a standard lid. Place the jar on a plate and keep it at room temperature for 24 – 48 hours.
If your lid does not have an airlock, loosen it occasionally ("burp" the jar) to release the pressure created by fermentation. The brine should become slightly cloudy, and the beans will develop a slightly tangy scent.
After a day or two, you should be able to observe signs of fermentation. These include bubbles and a pleasantly sour aroma. In addition, you may also notice increased haziness in the brine. When you can see these signs that fermentation is underway, it's time to move the beans into cold storage.
Seal the jar with an airtight lid and transfer it to the door of the refrigerator, where the beans will continue to ferment. Taste them after about two weeks. If they taste good to you, they are ready! But if you want them to be tangier, allow them to ferment for a few more days. I find that I'm happiest with my green beans after they've fermented in the fridge for about 3 weeks.
Fermentation tips
Fermenting vegetables is generally a very safe process for food preservation. That's because the acidic environment is inhospitable to botulism or other dangerous contaminants.
That said, there are a few ways that fermentation can go wrong and result in a product that won't taste good. Follow these tips for fermentation success:
Make sure all of the equipment you use is very, very clean. You don't want any traces of dish soap or any other agents that might derail the fermentation.
Use filtered water. Cholorine will do it's job and inhibit bacterial growth, even the good bacteria that you are trying to culture in this recipe.
Make sure that the salt you are using doesn't contain any anti-caking ingredients. Check the label and make sure that the only thing in your salt is salt.
If you are culturing your green beans in a very warm or very cool room, that can affect the rate of fermentation. I generally find that during the summer, I can move the green beans to the fridge after about one day. On the other hand, it takes about two days at room temperature in the winter when my house is cooler.
---
🧰 What you'll need
Note: This section contains affiliate links. I may earn a small commission if you follow the links and make a purchase. This doesn't cost you anything, and it helps me continue running Bittertreats.
Fermentation is one of the oldest methods of preserving food. As you might expect, you don't really need anything fancy to get started!
That said, there are a few specialty tools that will make this recipe — and other pickling and fermentation projects — even easier.
These are the basics:
And these are a few items that will make your lacto-fermented green beans a breeze to make:
---